Rory Gallagher anxious to see All Ireland winning quartet progress with Derry in 2023
Rory Gallagher says he's looking forward to seeing how a quartet of All Ireland minor winners progress within a Derry squad intent on improvement this season.
5th Jan 2023, 4:17pm
- 4 min read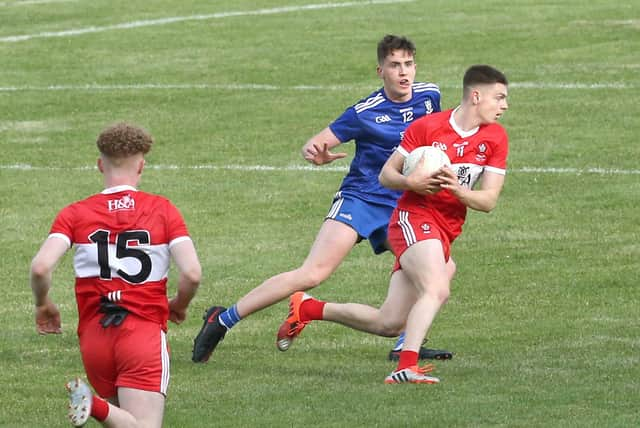 One of the Fermanagh native's first pieces of business upon assuming the Oak Leaf senior position in September 2019 was halt the 'Oak Leaf revolving door' which had seen a large annual overturn of players within the senior panel. That marker has been passed, packed away and left a distant dot in the rear view mirror following last season's excellent Ulster Championship victory and run to the All Ireland semi-final. Places within the squad are now at a premium.
Only Kevin Johnston, Ryan Scullion and Niall O'Donnell have been added to the panel for this season but settled doesn't equate to complacent in Gallagher's books and he's looking forward to a few of Martin Boyle's 2020 All Ireland Minor winning side really staking their claim.
"We have kept a very settled squad and that's ultimately what we were trying to achieve when we first came," explains the Oak Leaf boss, "If someone really stands out in the club championship, you definitely take a look at him but we would feel that we have the vast majority of the best players in the county.
"Listen, I suppose the big thing now is seeing how much everybody can push on and show improvement but you also have the likes of Matthew (Downey) and Lachlan (Murray), in my mind two serious talents, who were a bit unlucky last season.
"Matthew in particular had no luck with injury while Lachlan's body took a wee while to adjust to it but I think both have made great progress over the winter and alongside Mark Doherty and Eoin McEvoy, those are four players that drove the county to an All Ireland minor title so I'm delighted to see how they progress this year."
While others have often scoffed at it, Gallagher is a self confessed fan of the McKenna Cup which he views as vital preparation and he's anxious Derry make the most of the annual season curtain raiser which appears to have been given a new lease of life by the split season.
"I'm really looking forward to it. Since I have been involved with Derry, preparations for the McKenna Cup have been very disjointed," admitted Gallagher, "This year, albeit Glen are still going, it's the lesser of evils. Glen were going last season and you had Slaughtneil hurlers which is a considerable amount of your first choice players.
"With those hurlers available, we are just missing a couple of the Glen lads so we're looking to prepare for the start of the league and from that point of view, competitive games are good. It's certainly a competition which I feel we should enjoyed, probably this year more than any other year.
"We have never been a group that is interested in travelling for challenge games, it's not something we really do. We just want competitive games and training. Training pre-Christmas is difficult because you have no game to focus on but Since we came back on the (December) 29th, we've game to focus on again and that's what you want."
As mentioned, Derry will start without the likes of Conor Glass, Ethan Doherty and Emmett Bradley who will be in Croke Park this week with Glen but Gallagher remains a staunch fan of the new calendar.
"No, it's not completely split but it is still a success," he explained, "Dealing with the individuals we have and with Glen, if they go to an All Ireland final and are good enough to win it, then it would be brilliant. The boys would celebrate for a few days but then they would be back to training. That's the sort of characters they are.
"It's not something I am concerned about in any way whatsoever. The current calendar is an awful lot better than it running to St Patrick's Day. Even though that was a wonderful occasion in Irish sporting life on St. Patrick's Day, I think this is the best fit for players, clubs and for counties. I certainly am appreciative of the change,
"I have no worries about the Glen lads at all but we have always been fortunate there, even with the Slaughtneil lads. Once one thing finishes , they just get on the horse again and that's the way it's going to be."
Tyrone got Section B up and running by defeating Fermanagh by 0-17 to1-07 in Healy Park on Wednesday and while he's keen to go as far as possible in the McKenna Cup, Gallagher admits his eyes are already focused on Limerick in Owenbeg on January 28th.
"You have to remain very true to yourself and be able to look each other in the eye consistently on the training field with how your prepare and then how you play. That's going to be the ultimate test of us. Can we bring the hunger and desire that we've displayed on the training field during this pre-season? Can we bring that now into the McKenna Cup and then on into the League?
"From a coaching point of view, you are really looking forward to that. You want to see your players going out and see the levels. I can't wait for it. It's great for the season to get up and running. It is a long time without inter-county season, which is one of the down sides of the split season, so on a personal level and speaking for the management - and I think the County Board, supporters and everyone - we are all keen to get back out on the road.
"Listen, we just set out to improve game on game. We'd all love to get promoted, win Ulster again and then the All Ireland but that's a very generic statement for ourselves Tyrone, Donegal, Armagh, Monaghan, Down, basically every county. We never look too far, we take it week by week and try to enjoy each week.
"At this point, the first date I would always look forward to is the league and the McKenna Cup is preparation for the league. We have Limerick first and then Louth in an eight day period before a two week gap. Now is about ensuring we prepare really well but also enjoy those days preparing together."