Slaughtneil still top guest list on Derry hurling's triple bill of county finals
Leadon Timber Frame Derry Senior Hurling Finals
Published 15th Sep 2023, 09:00 BST

- 4 min read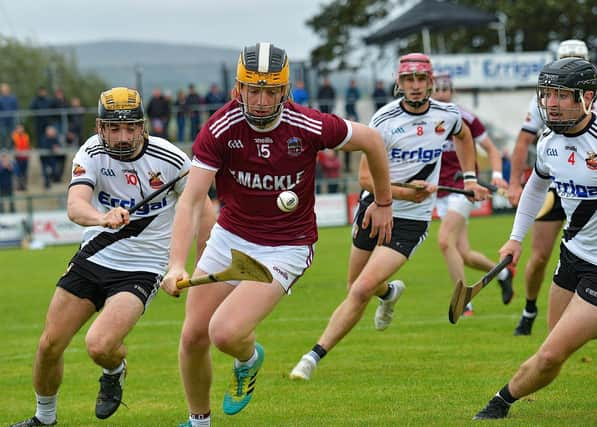 ​The destination of Derry's three 2023 hurling championship titles will be decided on Sunday at Owenbeg.
Oak Leaf senior county manager Johnny McGarvey has been an interested spectator at many of the group games, running his eye over potential candidates for next season's inter-county season.
Here the Derry manager looks at each final and gives his verdict on whom he believes will be crowned county champions . . .
Slaughtneil v Kevin Lynch's
"This is one of those games that, as a neutral, you hope it's just a really close contest. It's not that I hope Kevin Lynch's win but I'm hoping they can give Slaughtneil a good game. The last two finals, maybe even the last three, they haven't been overly competitive.
"No semi-finals this year it a bit of an unknown quantity. Kevin Lynch's looked very good against Banagher. John Mullan and Corey O'Reilly really stood out for them and again, those couple of goals they conceded at the finish maybe took the shine off what was a great win for them.
"Whereas in the game before against Lavey, Lavey out-battled them and out hurled them yet they are capable of playing as they did for most of the game against Banagher. It's so hard to tell when you don't have that semi-final knock-out going into a final.
"Slaughtneil, on the other hand, played Swatragh last weekend six short of last year's team that played in the final so it's hard to gauge exactly where they are at. Shane McGuigan hasn't hurled this year yet for example.
"There are few of the more established Slaughtneil players - Brian Cassidy I think is in Australia for example - who are unlikely to feature; Shane McGuigan as I say hasn't played yet but you their young lads like Peter McCullagh, Ruairi O Mianain, Jack Cassidy and James McCloskey have all been very, very good and I still think they have a bit too much at the minute.
"I hope it's a really good game. I think the club championship needs a good final but I would still be going Slaughtneil at this stage.
"It's that long since we had a really good competitive final because Slaughtneil have been so far ahead of everyone. It's probably fair to say I don't think even Kevin Lynch's could see themselves in the final after they had lost to Lavey. It is hard to gauge where everybody is at when you don't have those semi-finals.
"Lynch's could look at the one week turnaround and think 'this is some opportunity for us'. You would never have just a week for the county final, so it is about getting yourself mentally right and just going for it!
Johnny's Senior Verdict: Slaughtneil
Eoghan Rua v Ballinascreen
"I think Eoghan Rua are favourites. They beat Banagher and beat Lavey. They're the defending champions. They defeated Ballinascreen, Swatragh and Lavey as well last year and I think they're slight favourites for the Intermediate title.
"Against Lavey their big players were excellent. Niall Holly was really, really good; Dara Mooney was very, very good; Barry McGoldrick and Colm McGolodrick were excellent. They score goals and if you score goals in championship matches then you give yourself some chance.
"Ballinascreen had Eamon Conway limp off in their match at the weekend and that would be a concern for them. From their point of view, beating Swatragh and getting to the Intermediate final would be a massive thing and they'll certainly fancy their chances now.
"I watched 'Screen play against Swatragh was impressed so, truth be told, I'm not sure who to pick in this one. Going on what I saw at the weekend; I thought Coleraine played so well against Lavey that I would maybe lean slightly toward Eoghan Rua. They've a bit of momentum and that's everything.
"To go into a final against Ballinascreen having beaten Banagher in Banagher and then Lavey, those are two massive results.
Johnny's Intermediate Verdict: Eoghan Rua
"I don't particularly like the current system we have but it's a very strong junior pairing. I'd say whoever comes out of it would comfortably - and I could end up eating my words - but they could comfortably win Ulster.
"Banagher beat Lavey and I was very impressed by them but they then lost to Coleraine and Kevin Lynch's and really the two goals at the end against Lynch's put a gloss on the scoreboard. They were well beaten. But I would still probably fancy Banagher. They have a bit more firepower than Swatragh. Swatragh took a bad beating at the weekend against Slaughtneil and the flip side of the quick turnaround is they only have a week to recover from that.
"To be fair, there was a stage at the end of the first half they scored six or seven points in a row but by that stage with Slaughtneil well ahead.
"I fancy Banagher because of their forward power. They are in a unique position in that they may have know when not making the senior final this is where they would rather be because they they can't play in the Ulster Intermediate.
"Again, I think it was probably win or bust for them against Lynch's but now that they are in the final, they'll want to win it and push on through Ulster and maybe into the All Ireland Club Series."
Johnny's Junior Verdict: Banagher