ULSTER MINOR FINAL: Derry manager Damian McErlain says previous Monaghan games count for nothing
​Derry manager Damian McErlain is no stranger to Ulster Minor finals and he's expecting Sunday's meeting with Monaghan in the Athletic Grounds (6pm) to be one of the toughest.
Published 25th May 2023, 19:15 BST

- 3 min read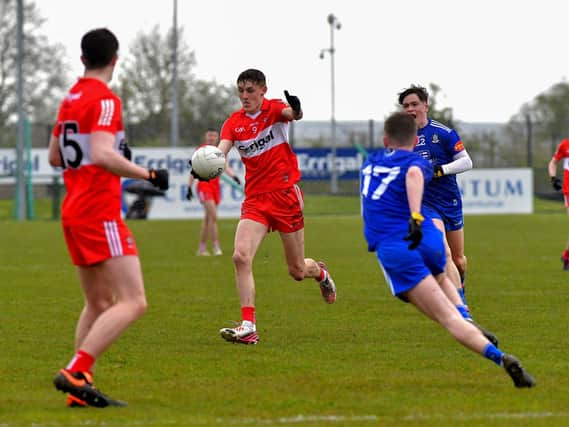 Including this season, McErlain has managed four Oak Leaf minor teams and led every one of them to a provincial decider, winning the 2015 and 2017 titles. His 2023 vintage will be favourites having already defeated the Farney County in the group stages of this season's championship but McErlain dismissed that result as having any bearing on what looks an evenly balanced final.
"They don't count. They do not matter at all," McErlain answered emphatically when quizzed if previous results hold any significance, "There were a few things we did particularly well that day in Owenbeg and chances are you might not do them just as well twice in a row so right away there's a leveller.
"No, there are different games. Different settings, different scenarios: knock-out football puts a different spin on the whole thing and asks questions of everyone's ability to perform in that environment.
"Monaghan are trying to pedal us as big favourites but it's all irrelevant. That's for the supporters to think about. We're just focused on being better than we were last week because if we are not better than we were against Donegal in the semi-final then Monaghan will beat us. That's it in a nutshell.
Derry are expected to have Cahal McKaigue back among the substitutes to face a Monaghan side who produced the shock result of the competition by defeating Tyrone on penalties in their semi-final.
"Monaghan will fancy themselves and they have every right to be thinking that," added the Derry boss, "They will definitely come at us. They took on Tyrone and scored 2-14 which is damn good shooting and would win most matches. They never lay down in that semi-final. With three minutes to go in extra time they were five points down and managed to show the composure and character to keep coming back.
"That semi-final victory will give them a serious lift, the same way Donegal had a serious lift against us from beating Cavan in the quarter-final. Matches like that, at this age, it will bring them on leaps and bounds. As our boys learned, the championship group match against Donegal meant absolutely nothing when the ball was thrown in last week and it's going to be the same in the final."
Derry won their own war of attrition in a tense 0-9 to 0-4 semi-final victory over Donegal, a performance McErlain believes he squad needed after facile victories over Fermanagh and Antrim.
"We could have made it more comfortable for ourselves at times but, again, we got through it," he added, "We managed to maintain our discipline and keep control of the game, even when Donegal were having dominant periods. We stayed in control, kept them to four points. They scored only nine points in two championship matches against us so you can't argue with the superiority there.
"But going into the final is a totally different thing. Monaghan will have a much greater attacking threat than Donegal. They will go at you. They came to Owenbeg and while we were comfortable, we played very well that day and Monaghan have proved since that day that it was possibly a blip on their form.
"They are big, strong and have a good attacking threat so they will take some beating, especially as they always bring strong support with them. They bring intensity, noise, they challenge hard but that's what you get from every Monaghan team.
"In fairness to our boys, we talked about that intensity going into the semi-final but it's one thing talking about it and another producing it on the day. They still won a championship semi-final by five points so you can't argue with it too much but there's a massive amount of learning for us going into the final."