Longvale Bella wins Daniel Canning Memorial Final at Brandywell
There was a large crowd in attendance at Brandywell Stadium on Monday to witness Longvale Bella lift the annual Daniel Canning Memorial Trophy, defeating pre-race Lakeside Model in an exciting final.
Thursday, 25th August 2022, 11:12 am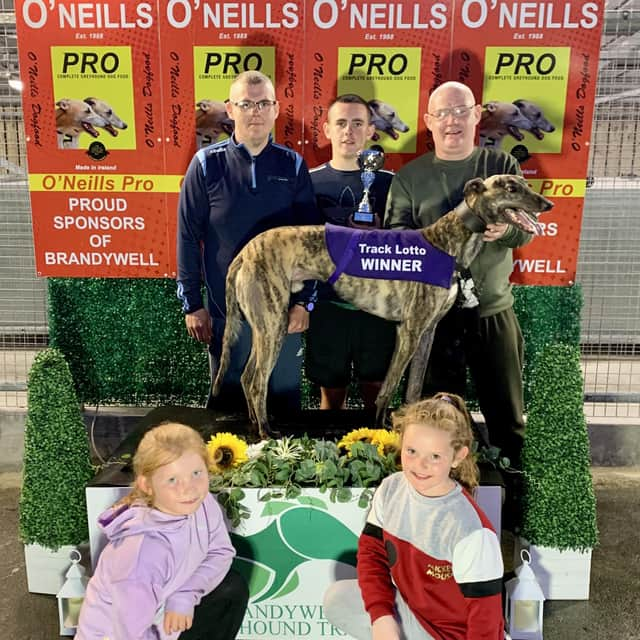 The Len Mc Kinney Greyhound Transporter 500. It was won by RATHRONAN SYD from trap No 4 in a time of 27.78. From left we have Kealan O Kane , Mr Kieron Gallagher x Mr Kevin O' Kane with Hannah Keanan X Orla Wray in front.
Raced over 500 yards, one of the highlights of the local calendar saw 'Lakeside Model', who won his semi in impressive fashion the previous week, installed as 2/1 favourite with 'Longvale Bella' well supported at 5/2 before the off into 9/4. At trap rise it was 4/1 shot 'Skirk illusion' that led from trap one around the opening bends and into the back straight with the outsider of the field, 'Derryveen Hill' at 6/1, in second and 'Longvale Bella' few lengths behind in third.
By the third bend though the race changed with 'Derryveen Hill' moving up to challenge 'Skirk Illusion' but both got impeded which left a opening for 'Longvale Bella' who shot through to take the lead. She went a few lengths clear into the straight and although 'Skirk Illusion' was closing fast, 'Longvale Bella' held on to win by a length in a time of 28.30 for Artigarvan based owner, Georgia Gibbons.
Also on the card were the three semi finals of the 'Bart Teague Memorial Oaks', kindly sponsored by Tony Teague and family. In the first semi-final 'Peace' from trap five was evens favourite to win with 'Kenyan Flame' next best at 2/1 but this turned into a one dog race. 'Kenyan Flame' broke well and led up by a few lengths before there was trouble in behind the leader on the bend and she eventually came home six lengths clear in a time of 29.32 for Tyrone based owner, Sean Hughes. 'Gotthereatlast' emerged from those held up to finish second and also qualify for the final.
In the second semi-final, 'Clongeel Pick' was well supported before off from 6/4 to evens and the punters proved spot on! Up to the bend 'Clongeel Pick' from trap one and 'Zoo's Semenya' from trap six set the early pace but along the back straight 'Clongeel Pick' pulled clear and she came home an easy winner by just under seven lengths in a time of 29.60 over the 525 yards for local owner, Paul Gallagher and trainer, Willie Mullan.
The third semi final looked wide open on form but the race itself provided the easiest win of the night. 'Ballymac Julia' had only one race on her card when she was well beaten in Shelbourne Park but she did have a decent Shelbourne trial on her card of 29.09 for 525 yards and she was 2/1 to win her first race at Brandywell. She broke well and went to the front early before galloping clear of the field and coming home a very easy eight length winner in a time of 29.63 for Ratoath based owner, Leonard O'Hanlon.
The final of the Oaks will be decided on Monday night at the track with 'Kenyan Flame' enjoying a good advantage on the clock to ensure she starts favourite but I'm willing to take her on with 'Ballymac Julia' who should improve after her first look at the Brandywell track. She will also be a value bet so best of luck to all the owners in the final with the first race on Monday at 8pm.