Tributes pour in for Derry's Marathon man Danny Sheerin
Tributes have been paid to inspirational local runner, Danny Sheerin, after Derry's own 'Marathon Man' passed away this morning following a brave battle against illness.
Wednesday, 24th August 2022, 6:54 pm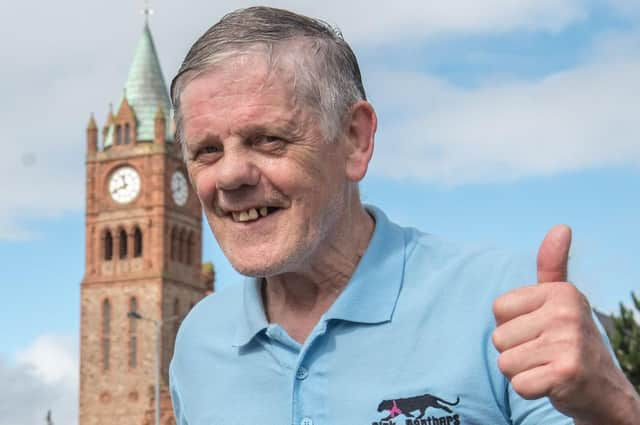 The late great Danny Sheerin.
Sheerin, a popular and much loved legend on the local athletics scene, was a constant competitor at the Liam Ball Triathlon, Derry Marathon and Waterside Half Marathons over the years.
In fact this year was the first year since their inception that he hadn't taken part in those three events. A beloved husband, father, grandfather and great grandfather, Danny leaves a lasting legacy and was an inspiration for all runners throughout Derry and beyond.
Walled City Marathon organiser, Noel McMonagle, said Danny will be sadly missed by the 'running family' in the North West.
"Danny was one of the pioneers who started to do all the local events, he made sure not to miss them as well," he stated, "He did the Waterside Half Marathon every year since it started. Even the year when it wasn't able to go ahead, Danny still did it anyway! We had around 15/20 people who travelled to Derry to take part in the race, so I had arranged to take them around the course and Danny got wind of it and he decided to come as well. It kept his cycle going.
"When I got the marathon re-started in 2013, Danny came to me and said that he wanted to do it. I knew he wasn't keeping great but he assured me that he had two chaperones who were going to stay with him the whole way. So, lo and behold, he did it. He then decided he would run the next marathon and the next marathon and he did all the new Derry marathons.
"He kept that cycle going from 1981, right through the re-starting in 2013 and up to 2019. Myself and Charlie Large would have organised a wee early start for him and he just kept going. He was an inspiration.
"Danny could easily have just thrown his feet up and had the easy life but fair play to him, he kept it going. He's the only person that I'm aware of who has done all the half-marathons, all the Liam Ball Triathlons and all the Derry Marathons. There is no one who has done them all.
"Danny had covered them all right up until this year's Liam Ball and half-marathon. those are the only two he has missed because of his health. He was remarkable."
McMonagle stressed Danny never unduly worried about his finishing time, saying he just wanted to inspire people to take up the sport.
"Danny didn't care what position he finished or what time he finished with, it was all about showing anybody could do this," he said. ''I think it inspired people when they saw Danny running.
They thought 'If Danny Sheerin can still do it, then I can do it'. Danny enjoyed helping others like that and that's what I always took from him.
"He was always there to give some small bits of advice to people and towards his last few marathons he was getting pushed in his wheelchair and then would walk a bit but when he would finally come up the home straight he was always jogging and walking.
"I remember Danny stopping one year on the Peace Bridge and walking with a guy for a while. The guy was struggling and Danny got out of his wheelchair and walked over the Peace Bridge with him while Danny's son was beside them pushing the wheelchair. I thought that was great and just summed Danny up."
Danny is a past recipient of the 'Spirit of the Race' award for all his work on the Walled City Marathon and McMonagle admits watching Danny receive the award was an emotional moment for everyone present.
"We awarded Danny the 'Spirit of the Race' award in memory of Martin McGuinness. You could have given Danny a million pound and it wouldn't have meant as much as that award did to him," insisted Noel, "He was totally overwhelmed by it and right away he held it up and said, 'I dedicate this to my family who support me'. I thought to myself, 'Fair play to you, Danny, you have just got that award and right away you are thinking about other people'. It was very moving.
"As Danny said to me a few times: 'It isn't about me, Noel, it's about the children that are following behind me, my own children and my grandchildren'. He wanted to lead by example. And he did lead by example because everybody knew him on the course. He became like a celebrity and when we were able to afford him an early start, it meant that he was able to finish the marathon when all the big groups were still out on the course, so he wasn't isolated It worked well for him.
"He was a top man who was a very, very inspirational person to a lot of people in Derry and beyond."
Echoing Noel's sentiments, Mayor of Derry City of Strabane District Council, Colr. Sandra Duffy, said the north west had lost a "true champion."
"I am deeply saddened to learn of the passing of Derry's own 'Running Man' Danny Sheerin," said Mayor Duffy, "Danny championed our local athletics events for decades and took part in scores of marathons, half marathons and triathlons.
"He inspired countless local people to take up running and led by example, showing great courage and determination by continuing to participate when he wasn't well in recent years.
"My thoughts and prayers are with Danny's family and friends and this sad time."