Twelve year-old Derry kickboxing sensation Annie Murphy fights French champion for world honours
TWELVE year-old kickboxing sensation Annie Murphy gets the chance to create history in the city this Saturday night at The Everglades Hotel by becoming the first female from Derry to be crowned WKU world junior kickboxing champion on her home turf.
Published 23rd Mar 2023, 12:09 BST

- 4 min read
The talented Top Ring Gym fighter is no stranger to success having travelled the globe collecting honours and building her reputation in the sport.
She boasts an enviable war chest in her Temple Park home where she proudly displays seven world titles won under the jurisdiction of two universally recognised and respected kickboxing federations (WKU and WKO).
She's fought for and won world titles in Greece, Austria, England and Wales and four WKU German championship titles but arguably she faces her biggest test of all in her own backyard this weekend when she takes on four -times French Muay Thai champion Belftoufa Manel representing Tek Gym France for the WKU Pro-Am world title.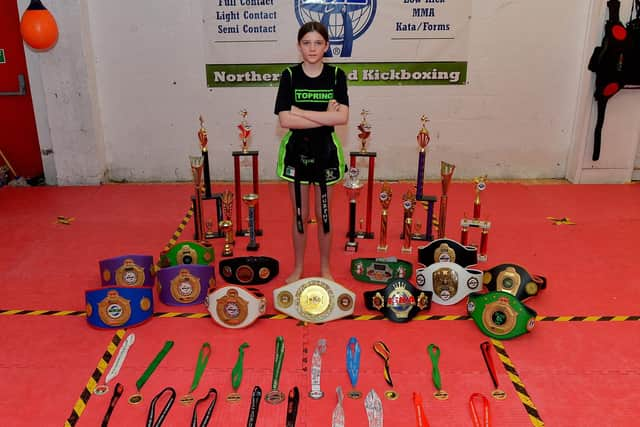 Information on her Parisien opponent is scarce online but no doubt the world title bout promises to produce fireworks given the current WKU Irish title holder's past exploits in the ring.
The St Brigid's College student's coach at Topring Gym on the Strand Road, Uel Murphy (no relation), described her as 'fearless' and an 'exceptional' talent but the little information the Topring camp have on her opponent hasn't exactly helped with their preparation for the fight.
A single photograph of the Parisien where she takes a southpaw stance and limited statistics online make Manel something of a mystery ahead of the fight but Murphy is confident Annie can come out on top if she concentrates on her own strengths.
"We have no footage of this girl at all so we're assuming she's a southpaw as in her photograph she's in the southpaw stance," he explained. "However, maybe they've done that deliberately just to throw us off," he questioned.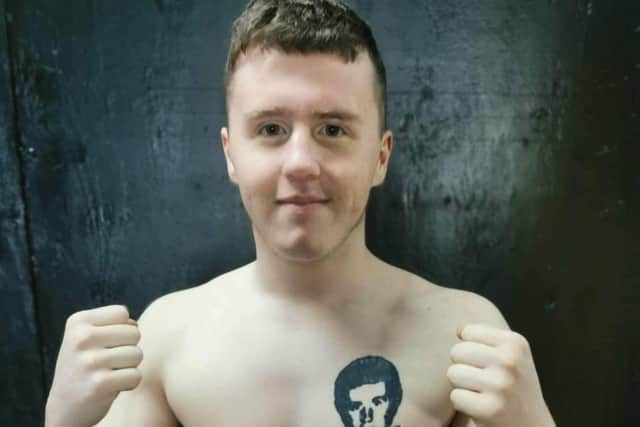 "Annie doesn't have any experience of fighting southpaws but we've been working on that in training and she's adapting really well in sparring. The plan would be to pick our shots and not get involved at middle distance and see how the fight develops. We'll not get involved in a fight early on."
Fighting with a large home support at her back will be a different feeling and will likely bring out the best in her but it's a scenario which also brings added pressure.
"Absolutely she will be nervous, everybody gets nervous before a big fight but she has all the tools. Sparring has been going really well and everything will be done to keep her in the right frame of mind ahead of the fight. She's exceptional at distance, timing and balance and she's well prepared.
"So, yes, it's added pressure definitely no matter what age you are fighting in front of your home crowd and a sold out crowd at that but it's also a great experience to fight in your hometown.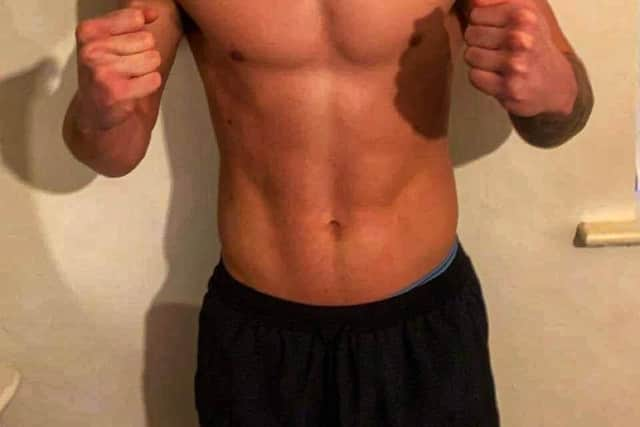 "She's thriving. This will be one of her biggest fights so far and it will be a massive achievement for her whether she wins or loses on the night," added Uel who has been training Annie for five years.
That headline attraction is worth the entry fee alone for the sold-out 'Super Six Series' hosted by Topring Gym at the Prehen Road venue. However there are 18 other contests on the night including two Irish title fights which will certainly whet the appetite.
Five hundred and 50 fight fans will be in attendance for the event which features fighters from Derry clubs Topring, Rathmor Warriors, Mayhem and TMA not to mention visiting gyms from the French capital and England.
There will be huge interest generated in the exciting six-man tournament where six fighters on the night will go head-to-head for the 'Super Six' title with the winner securing a fantastic £600 - a major incentive for those involved.
Also on the bill will be Rath Mor Warriors duo Conal McBrearty and Jake Mooney who will be contesting their first Irish titles.
McBrearty (20), from Culdaff Gardens in Creggan fights five two minute rounds for the WKU Irish K1 kickboxing 66kg title against Ciaran Healy (O'Neill's Fitness). His coach, Sean McGill is confident his man will get the job done on the night.
"He's been at the club about six years," explained McGill. "He hasn't been very active up until last year but told me he wanted to get titles and I was willing to push him. We took him four times to England and to Scotland to fight and all over Ireland and so he had 10 fights in total last year."
He has gained invaluable experience on the road fighting for both the British ISKA title in Sheffield and the WRSA Celtic title before winning the AKC Irish K1 championship last December in Strabane. Those experiences will stand him in good stead reckons McGill.
"He's put in the hard work and deserves his chance. The boy he's fighting is Irish champion in full contact, Ciaran Healy. He's smaller but very strong but Conal has amazing stamina. I've taken him on the pads and he just doesn't stop. He trained twice a day six days a week for the last eight weeks. I'm very confident that they'll get the job done."
Conal's stablemate 21 year-old Jake Mooney from Rosemount will take on Strabane man, Dennis Lafferty (S.M.A.A) for the WKU Irish low kick title and this one also has potential to be contender for fight of the night.
"I have two other fighters on the show as well," added McGill. "Nathan 'Big Daddy' Mullan and Dylan Anderson who are both 18 years-old and in great shape. It promises to be a great show."