City of Derry seek to bounce back as Grosvenor arrive at Judges Road
Ulster Championship One
Published 14th Sep 2023, 17:57 BST

- 3 min read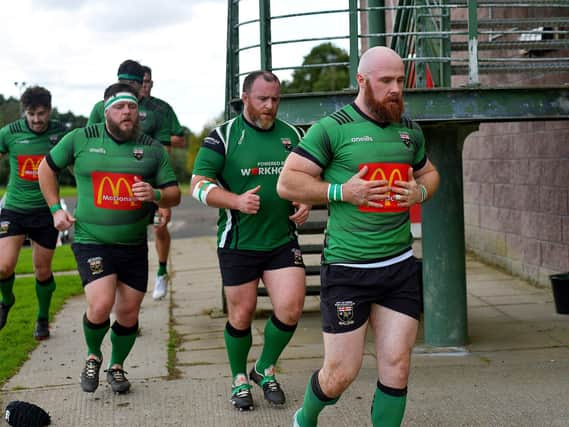 City of Derry v Grosvenor (Sat, Judges Rd, 2.30pm)
Head Coach Richard McCarter says he'll be seeking a reaction from his players as they look to bounce back from a first defeat of the season this weekend.
Grosvenor provide the Ulster Championship One opposition at Judges Road on Saturday with McCarter keen to ensure last week's 30-24 reversal at Enniskillen was a blip rather than the start of an early season stumble following an otherwise positive start from the 'Green and Black'.
That frustrating defeat was due in no small part to an opening quarter which found the locals 14 points behind after only 10 minutes. Indeed starting slowly has become a worrying trend which the Derry coach says Derry must address if they are to continue their upward trajectory.
"We have to start well," admitted McCarter, "We've started very poorly these last couple of weeks and that's something we have to drum into the lads' psyche this week. We have to start well and try to make it an easier game than it potentially could be.
"Derry of the recent past would have lost last week and maybe let it snowball but we have to get a grip on things quickly. We need to put that pressure on ourselves that we have to win this weekend, end of story. I think we are more than capable of doing that and getting the four tries. We just need to stay calm and keep the pressure on, do all the things we have done so well.
"We just can't afford to give head starts like we did last Saturday"
Derry will be without Dara Gill and Ross McLaughlin this weekend and McCarter says no one will be underestimating the threat Grosvenor pose. Last February at Foyle College, Derry produced one of their best displays of the year against the Belfast men, running in six tries in an ultimately comfortable 38-0 victory, but McCarter says that counts for nothing this season.
"Grosvenor will be a big test. They've won the Junior Cup first round, lost away to Dromore by only one point and scored a good win on Saturday at home to Carrick so they certainly seem to be improving.
"It's something myself and 'Coops' (Chris Cooper) have talked about; even last season, okay the result was pretty conclusive but in the first half Grosvenor played a tidy style of rugby and had a good out-half who kicked well. Had they been more of ruthless it might have been a much tougher game.
"When we got going and started being more direct it did become easier for us but we are certainly not going to be complacent about them because they've shown they can be dangerous.
"We scored at the right times, got a couple of early second half tries which killed the game. It was also a Thursday night up in Derry toward the end of the season and perhaps they weren't overly enthusiastic about being there so we won't be reading too much into that game.
"We got it tight up in Grosvenor at the start of last season - a game I had to play in - so look, we know it will be a tough test but we have to concentrate on ourselves."