City of Derry take 14 points from 15 to make Cup semi-finals
​​City of Derry . . . . . . .. . . . .14Ballynahinch IIs . . . . . . . .14It was 'job done' for City of Derry on Saturday as they eased into the semi-finals of the Junior League Cup despite an out of sorts performance against Ballynahinch Seconds at Judges Road.
Published 27th Mar 2023, 13:38 BST

- 4 min read
Updated 28th Mar 2023, 15:01 BST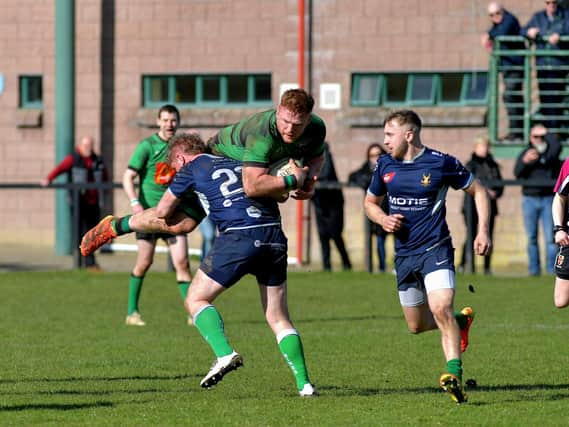 The single point victory made it 14 Pool A points from a possible 15 for Richard McCarter's 'Green and Black' who now join Enniskillen, Cooke and Ballyclare in the last four. Derry went into Saturday's game requiring only a single point, even in defeat, to advance and while he was delighted to see his side extend their season, Head Coach Richard McCarter admitted it had been a poor overall performance by their recent high standards.
"It was very tight and if I'm honest we didn't play very well," admitted McCarter, "It was probably as bad as we had played in a couple of months. We made loads of mistakes and made the game quite difficult for ourselves.
"We got a penalty with 10 or 15 minutes to go and thankfully Alex (McDonnell) slotted it over but we were hanging on a bit at the end with 'Hinch putting pressure on us. At that stage though they had only two tries so we knew we were fine in terms of qualification for the semi-finals, so it was never to much of a panic."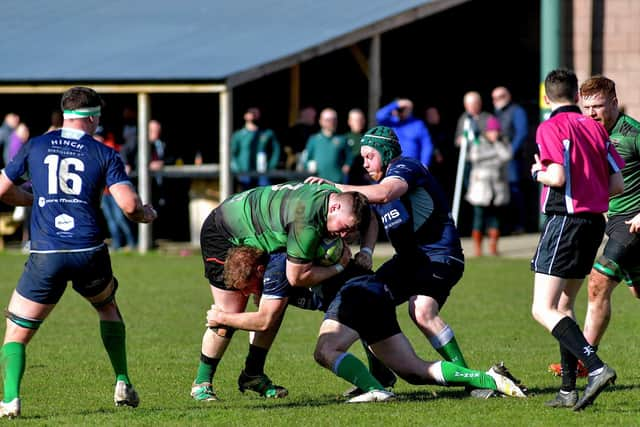 Tries from Stephen Corr and David Graham were critical for the locals who twice fought back from behind against a mobile and athletic 'Hinch outfit before McDonnell's penalty eventually proved the match winner. The victory keeps Derry's excellent end of season form rolling on and McCarter believes confusion over the qualification criteria may have been a contributing factor to his side's lethargic display.
"It was a strange game in the sense that we knew we didn't have to win but the whole build up didn't help," he explained, "At the beginning of the week we were under the impression that points difference was the deciding factor if teams finished level and we had a far superior difference; we were 43 points better off than Ballynahinch. In that situation we knew unless we were absolutely hammered without picking up a point, we would be through.
"However, we heard on Thursday that points difference didn't come into it, it went on the head to head meeting between the teams which meant had Ballynahinch scored five points and we got nothing, then they would have gone through. That changed the dynamic a bit on Thursday and with all that confusion I can understand how we lost a bit of focus; we played like a team that was trying to avoid a heavy defeat."
Although Derry never looked in any danger of missing out on a semi-final berth, McCarter admitted the game didn't have the typical psychological of a cup tie.
"We didn't play the way we have been playing. It was that strange situation of going into a game which you don't have to win. That can be a strange mindset for players to deal with. It felt like almost the second leg of a tie we had already won and that can catch you out.
"I think had Ballynahinch beaten Carrick last week and our game been 'winner take all', then we would have won quite comfortably because we would have had that focus but they were a decent side. They were young, fit and liked to have a go so from my point of view I'm just glad to have it out of the way and we can refocus for the semi-final.
"Regardless of who we get in the last four we know it will be a difficult game so that will ensure we are focused again."
With no date yet set for the semi-final draw, Derry have time on their side ahead of the last four but with a potential Ravenhill final to play for, McCarter is anxious to see his team grasp their opportunity.
"We have earned our right to be in this position," he adds, "Given the form that we are in I don't imagine anyone will overly fancy having to play us. It would be nice to have a home draw though. Although our away form has been decent, we would love a home draw to get a decent crowd behind us and give it a real crack. I think we can give anyone a crack at this stage. We have nothing to lose.
"We have to see this as a real positive. I cannot remember the last time we were in a cup semi-final at First XV level, I may even have been playing! We have to enjoy it and embrace it. I don't want us to be over hyped or nervous like we were a bit on Saturday. I want us to enjoy it.
"At the end of the day there is a massive carrot dangling in front of us. If we can win one more match we get the chance to play in a cup final at Ravenhill which would be brilliant."
City of Derry: Fearghus Canning, Cathal Cregan, Adam Marley, Gerard Doherty, Gary McKinley, Tiernan Thornton, Adam Deery, Stephen Corr, Jamie Millar, Alex McDonnell, Ian Bratton, David Lapsley, Davy Graham, CJ Cregan, Killene Thornton. (Replacements) Jack Sayers, Jake McDevitt.