Positives as City of Derry lose out to leaders Clogher Valley
Clogher Valley . . . . .40City of Derry . . . . . . 22There were plenty of positives for City of Derry despite defeat against Kukri Ulster Qualifying League Division One leaders, Clogher Valley on Saturday at The Cran.
Published 17th Oct 2022, 18:41 BST

- 3 min read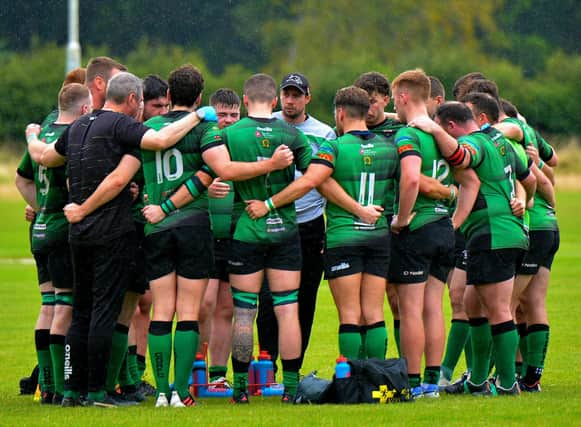 The Fivemiletown club had brushed aside all before them to date this season but found themselves trailing 17-7 to Derry after a superb opening half from the Judges Road men in very difficult conditions. Playing with the considerable wind at their backs, Derry had seen an early Alex McDonnell penalty cancelled out by a home try before two tries of the highest quality sent the visitors into half-time with a fully deserved 10 point lead.
First, a lovely break from McConnell teed up David Lapsley for Derry's opening try before an even better team move saw Stephen Corr, SImon Logue and David Graham combine to free up Killian Thornton to run in a superb effort which put Derry into the driving seat.
With McCarter's side facing the elements second half, the game turned on a controversial second try for Clogher which helped wipe out Derry's advantage inside 15 minutes of the restart and despite Corr adding a third Derry try late on, the leaders had a seventh straight victory.
For the Derry Head Coach however, there were positives to build on after a first loss in three games.
"We were 10 up at half-time having played really, really well in the first half, he explained, "We did everything we were hoping to do. We defended very well, albeit they scored one try, but we forced them into errors and were really clinical in attack.
"We scored two great tries and played in the right areas. There was a big breeze but we really played the conditions well in the opening half because it was still tough to play with the wind. We were really good up until half-time."
McCarter wasn't happy with Clogher's controversial second try which saw the home side initially knock on and Derry gain possession close to their own posts. Believing they were playing with an advantage, Derry ran the ball only to then knock on themselves but instead of returning to a scrum for the original knock-on, play continued with Clogher forcing a scrum and eventually scoring a crucial try to bring themselves back into. the game.
"We were running it thinking we had advantage but the referee said play on; Clogher got a scrum and eventually scored from it," added McCarter, "That was a sucker punch and 15 minutes into the second half they were leading 21-17 so we were chasing the game from there.
"We never really fired a shot in the second half, we ran out of steam a bit and they upped their game, pinning us back a bit.
"I knew it would take a massive second 40 from us to win. We needed to hang in there for the first 10/15 minutes and not let them get anything because they would get frustrated and we would grow again. However, with that decision, within 15 minutes we were behind.
"All in all though I was really pleased with the first half and genuinely couldn't have asked for any more from the boys but second half, if we want to defeat those types of team, we have to be fitter and have to be more accurate. Our kicking wasn't the best second half, we couldn't get the ball off the pitch which meant it was just wave after wave of attack at times."
This weekend Derry welcome Carrick to Judges Road for the last game before a two week league break and McCarter is anxious to bounce back by making it three wins from four games.
"We are definitely going in the right direction, the attitude has been so much better," he added.
"The work rate has gone up tenfold in the last few weeks. We need to take that into this weekend at home to Carrick because there will be a bit more pressure on us this week. It's a game we will be expected to win which in itself brings pressure but if we can maintain the application we have shown over the past three weeks we should create opportunities again."