Derry Girls' star a global hit in Netflix's Bridgerton
Derry Girls star Nicola Coughlan has amassed a whole new legion of fans over the past week after she appeared in Netflix's hit new series Bridgerton.
Thursday, 31st December 2020, 12:54 pm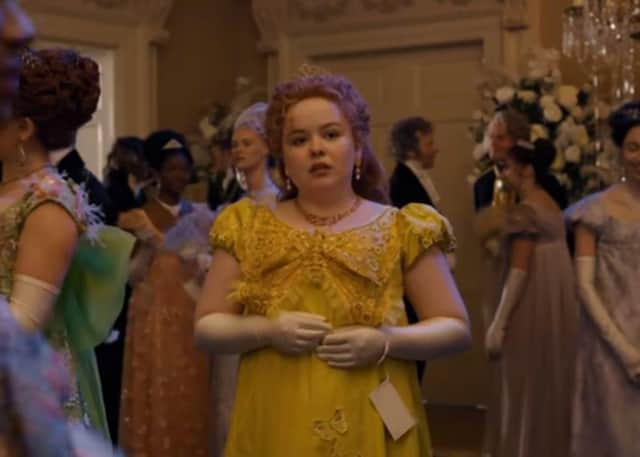 Derry Girls actress Nicola Coughlan in new Netflix hit Bridgerton (via YouTube)
Nicola, who plays the hapless and highly-strung Clare Devlin in Derry Girls, is one of the main stars of the quirky new costume drama series, which aired in December and is already proving a massive hit across the world.
The Galway star over the past few years has been a frequent visitor to Derry for filming and promoting Derry Girls, and her face and those of her co-stars adorns one of the city's newest murals on Orchard Street.
In Bridgerton, Nicola plays Penelope Featherington, youngest and most likeable daughter of a family dominated by a social climbing matriarch. The show has been widely praised for its inclusive approach, its lavish sets and the acting of its ensemble cast.
Set in the Regency era London, the series is based on a series of best selling novels by Julia Quinn and has been the number 1 most watched show on Netflix in countries right across the world over the festive period.
Nicola Coughlan said it was amazing to have been chosen by world-acclaimed producer Shonda Rhimes, whose previous work has included Grey's Anatomy and Scandal.
"I still can't believe I'm involved in it.
"I met our showrunner and he said, 'Shonda and I sat down and saw your audition tape and Shonda said, 'well it has to be her'.
"When you think Shonda Rhimes is the most powerful woman in television chooses you personally it's such an honour," the actress said in an interview with Netflix.