Thyme to Sing will be making most of Derry Culture Night
Tonight culture vultures will be delighted to hear that after months of relatively slim pickings on the local culture scene, there will be a flurry of artistic activity as Culture Night 2020 delivers its annual fix of music, song, dance, exhibits and animation.
Published 18th Sep 2020, 13:00 BST

- 3 min read
Updated 18th Sep 2020, 13:08 BST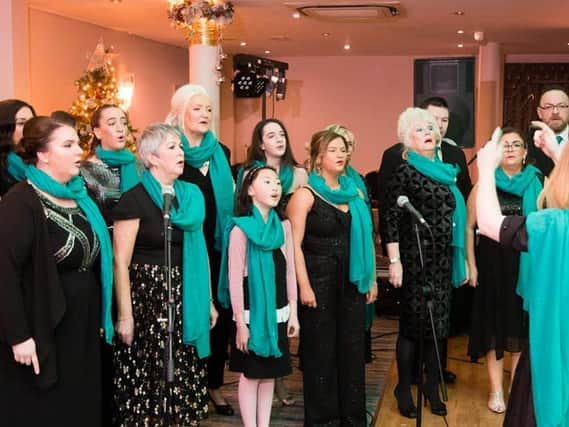 While this year's programme will mostly be delivered on digital platforms due to the current social distancing restrictions, it will still offer a colourful array of entertainment and the opportunity for many local artists to reconnect with audiences after months of cultural lockdown.
One local group in particular who are delighted to have the opportunity to come together once again to perform – albeit in a socially distanced manner – is the Thyme to Sing Group, a small community choir incorporating voices of all ages and backgrounds.
The choir is linked with local group CALMS (Community Action Locally Managing Stress) which assists people in managing and preventing stress through a range of specially tailored activities and programmes.
Thyme to Sing is just one of the activities which provides a social and emotional outlet for members, offering the opportunity to step outside their comfort zone and take on new challenges.
Erica Curran has been leading the group since it was established a year ago, and she revealed that they were looking forward to their first live online performance on Friday.
"Friday's performance in Brooke Park will be very timely for us as we are approaching the choir's first anniversary and it will be a great way of showing how far we have come during that time," she explained.
"Our members are from a wide range of ages and backgrounds and while many wouldn't be the most confident singers we have really progressed over that time. The choir meets every week and we try out a colourful variety of musical styles from classical to modern, so there's something for everyone to enjoy.
"We'll be joined on Friday by another group associated with CALMS called Belter. This is a group of young people of various ages who come together to share their stories and experiences and enjoy a range of arts based activities. They explore new ways to give local young people a voice and they will be joining the choir at Brooke Park on Friday evening, so it will be a cross-generational event. The Belter group will also be taking part in an event in the amphitheatre on Thursday as part of Good Relations Week. They will be telling their personal stories of strength – recounting their experiences of issues such as bereavement and discrimination, during the performance."
Like everyone, Thyme to Sing have had to adapt to the challenges presented by Covid-19 in recent months, finding new ways to reach out and stay connected.
"We've had to adapt to performing online which has its challenges," Erica admits.
"Over lockdown we couldn't meet up but we've been keeping in touch on our private Facebook group, posting vlogs and staying connected. Recently we have managed some socially distanced practices outdoors in Brooke Park with smaller groups which has been great.
"We aren't a typical choir, it's lovely because you can hear the individual voices - we aren't striving for perfection. It's all about the experience and just the joy of singing."
The performance on Friday brings together a myriad of melodies, representing all sorts of emotions, Erica explains.
"We wanted to perform a real variety of songs with all sorts of messages. I think that during lockdown we've all experienced a wide spectrum of emotions – resilience, isolation, strength, self-acceptance.
"We wanted to explore these and to say it's OK to feel down sometimes and there are ways of coping with these emotions. So we'll be singing songs including 'Lean on Me' and a sassy song which we'll sing acapella called 'The Saga of Jenny, which will feature some of the members singing solo for the first time.
"As with all live performances it's going to be nerve wracking and a bit of a challenge, but this all adds to the excitement and I really hope people enjoy it!"
You can catch Thyme to Sing live online as they perform outdoors in Brooke Park at 6pm on Friday September 18 at https://www.facebook.com/CALMSSM
For more on the full Culture Night programme go to the Derry City and Strabane District Council website at https://www.derrystrabane.com/culturenight?