Line of Duty: DCS Pat Carmichael - who is she and who is the actor behind the character?
As Line of Duty prepares to air for the last time viewers are waiting with bated breath to learn whether Ted and his team will become victim to the fourth person formerly known as H.
Published 2nd May 2021, 13:07 BST

- 3 min read
Updated 2nd May 2021, 13:12 BST
Hunting Ted is the coldly vicious DCS Patricia Carmichael. So could The Fourth Man in fact be a woman?
She's playing the character who has become the most hated woman on TV but who is Anna Maxwell Martin and where have you seen her before?
Her theatre work includes the role of Lyra Belacqua in the production of His Dark Materials (2003–2004) at the Royal National Theatre.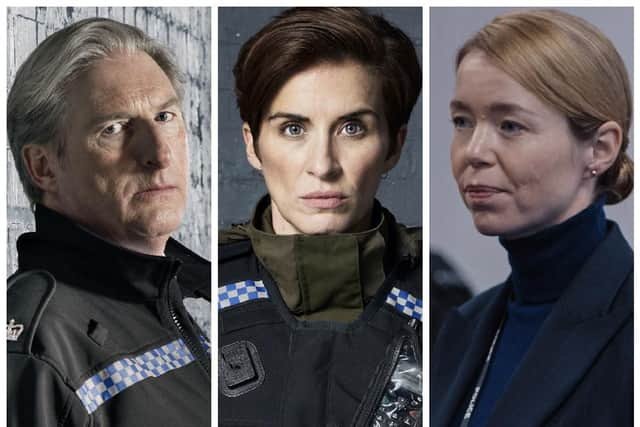 She has won two British Academy Television Awards, for her portrayals of Esther Summerson in the BBC's 2005 adaptation of Bleak House and "N" in Channel 4's 2008 adaptation of Poppy Shakespeare. Since 2017 Martin has played the lead role in BBC TV comedy Motherland for which she was nominated for the BAFTA Award for Best Female Comedy Performance. Her character Julia, a mum of two, is manipulative, self-centred and not to be trusted.
A bit like the loathsome Carmichael, then. Only much more stressed out and certainly much funnier.
Among her many other roles, in March 2015, Anna Maxwell Martin played Mary Shelley in ITV drama series The Frankenstein Chronicles, some scenes for which were shot in Co Derry.
In 2017, she played the lead role in sitcom Motherland, which will return to the BBC with a third series this year,
She also played Beelzebub, leader of the denizens of Hell, in the Amazon Prime TV serial Good Omens, based on the book by Terry Pratchett.
Despite all of her successes as an actor, it is the role of DCS Patricia Carmichael that has catapulted her to a new level of fame. She recently revealed that this led to her being in a car chase, followed by a paparazzo.
Known for her cold attitude, and ruthless interrogation skills, DCS Carmichael is beginning to become some viewers' prime suspect for the mysterious 'H'.
One eagle-eyed Line of Duty fan took it a step further and spotted a clue on Martin's social media account that could reveal a lot more about Carmichael ahead of the season finale tonight.
Who is DCS Patricia Carmichael?
DCS Carmichael was introduced to Line of Duty viewers in the fifth season of the hit show, as she stepped in to investigate proceedings at AC-12.
Introduced specifically to interrogate Superintendent Ted Hastings over his alleged links to the Organised Crime Gang, the character quickly became iconic for her snarky and quietly ruthless interrogation skills.
DCS Carmichael is in charge of Anti-Corruption Unit 4. Viewers were not presented with a lot of information about the character, but were treated to an insight into what Superintendent Hastings thinks of her.
Carmichael returned in episode five of season six. Her return came as Hastings looks to be forced to retire, and major cuts are set to take place inthe anti-corruption units.
What did Anna Maxwell Martin post on Instagram?
Fans began to speculate whether Patricia Carmichael was also corrupt, following some shady moments in episode six of season six.
During the interview between Carmichael, Steve Arnott, Hastings, and Jo Davidson, she kept interrupting when the topic drifted towards high level corruption within the police force.
Anna Maxwell Martin added another layer of suspicion on to her character DS Carmichael after a post on her Instagram account.
Throughout Line of Duty one huge clue has remained constant - 'H' has the inability to spell definitely, instead writing 'definately'.
On Instagram, the actor posted a picture of her dog with the caption 'Definately mama to this bank drain'.
The spelling mistake led fans to instantly pose the question of whether this was a cryptic clue from Martin regarding her character's possible links to organised crime.
Carmichael's morse code with her pen
Patricia Carmichael got fans speculating about her relationship with the OCG again during episode 6.
After the interview with Davidson, some viewers believe they found a secret hidden message connecting Carmichael to 'H'...all by the click of her pen.
During the chat, Carmichael was seen tapping her pen four times on the table - which has led to some fans speculating she was actually using morse code.
One viewer noted on Twitter: "Whilst interviewing Davidson, Carmichael taps her pen on the table 4 F*****G TIMES!! We all remember Dots message when dying, 4 Dots .... 4 taps in Morse code? F*****G H!!!"
However the actor laughed this off when she was interviewed by Phillip Schofield on This Morning this week, suggesting that she was "just bored" during a long scene and was focussed on remembering her next line.