The Great British Sewing Bee is back!
Wednesday: The Great British Sewing Bee (BBC1, 9pm)
Published 23rd May 2023, 17:00 BST

- 2 min read
As befits the series' make do and mend ethos, The Great British Sewing Bee has undergone a few alterations over the years.
When it first hit our screens in 2013, it aired on BBC2, was presented by Claudia Winkleman and introduced us to judges Patrick Grant and May Martin. Of that original trio, only Patrick remains – Esme Young took over from May from series four onwards, while Joe Lycett replaced Claudia in 2019, before bowing out himself in 2022, when Sara Pascoe inherited the mantle.
There have also been some moves – the series has been airing on BBC1 since 2020, while the sewing room itself has been transported from London to Leeds.
For the latest run, the Beeb has decided that Sewing Bee isn't broken, so it doesn't need fixing – Sara is back, along with Esme and Patrick.
However, there are some old favourites that could do with updating, as the theme of the opening episode is 'Classics with a Twist.'
For their first pattern challenge, the Class of 2023 will have to show that they can follow instructions as they make a top with a twist at the centre.
They get a chance to show off some of their own personality in the transformation challenge as they are faced with what was for years the standard women's office uniform of a pencil skirt and blouse. Can they let their imaginations run riot and turn it into something entirely new?
Finally, they get to meet their models for the first time when they are asked to whip up a made-to-measure dress with cut-out details, but at the end of it, one of the contestants will have to pack up their pin cushion.
Whoever leaves first will undoubtedly be disappointed, but one of the reasons that Sewing Bee has proved such a hit is that its joyful rather than cut-throat. Although there may be the occasional scramble to get the best fabric, the sewers tend to be supportive of each other and the judges are definitely constructive in their criticism.
It seems that's reflected in the show's fans. Esme says: "Sewing Bee is such a positive programme. Nobody who stops me in the street because they recognise me has ever been negative."
But perhaps that's all part of parcel of being a stitcher. Esme was taught to sew at school, and is keen to encourage more of us to give making out own clothes a go.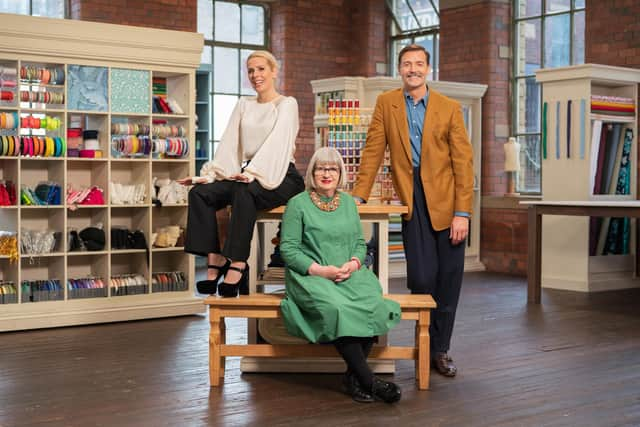 She says: "We were taught cross stitch, darning and mending, knitting and crocheting. Sewing was the way of the world. Girls were taught sewing at school. It was just something that was done, but it isn't nowadays.
"It's a shame, because particularly nowadays in this age of computers, you are being creative with something you can actually touch and feel. It's good for your mental health. You become part of a little community of people who sew."
But which member of the latest Sewing Bee community will make the best first impression and see one of their be creations named Garment of the Week?