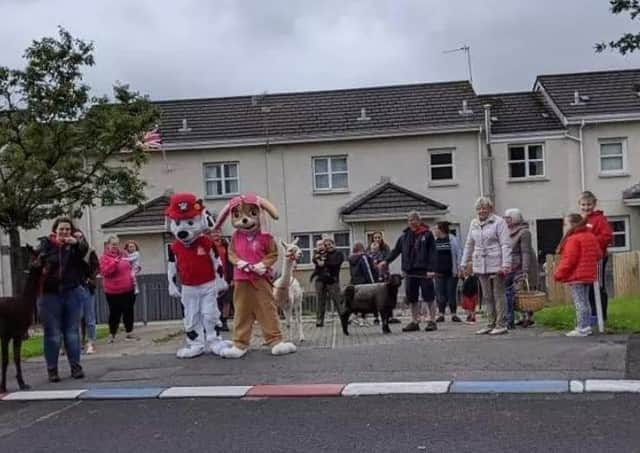 Since 1972, when the Cathedral Youth Club was established by the late David Warke and the then Dean of Derry George Good during what was the worst year of the Troubles, it's been a vital outlet for many generations of young people.
Veteran community worker Jeanette Warke who remains the heart and soul of the club, told the 'Journal' how the past year had presented a unique challenge for the Fountain community as it sought to cope with a health crisis on a scale not witnessed in the city in over 100 years.
She explains: "COVID-19 kicked in for us on March 25 last year and from then we immediately saw that there was an additional need among the people of the area and we wanted to support the local community.
"There was a tremendous amount of stress for a lot of people when the pandemic hit all of a sudden.
"I immediately started working on funding applications and was quite successful.
"We identified what the necessities were. We found there was a lot of people living in isolation, older people, and families who were finding it hard with the kids off school."
Harnessing the expertise accumulated over many decades of grassroots community work Jeanette and her colleagues quickly mobilised in order to address the worst public health and economic emergency in living memory.
Needs varied across the range of demographics living within the proud Fountain community but the club did its best to reach out to everyone.
"We did kiddies' homework packs. We did teenager self-care packs.
"We also set up a helpline for people if they needed help getting their pensions or having to go and pay for their electric or their gas, their bills for the TV and so forth and in general just to let people know we were there for them.
"We continued this right through to now and it is still ongoing. We hope to manage to continue doing it until June."
Over the years the Cathedral Youth Club has been a haven for the youth of the Fountain area and while reaching young people inevitably became more difficult as a result of the restrictions the outreach has continued throughout.
"We did an 'Eat Well Live Well' pack for teenagers as well and that was paid for by the Education Authority. It was a great asset for young people," explains Jeanette.
One of the uplifting aspects of the pandemic has been how communities in the city have come together.
"With the 'Eat Well Live Well' packs I was working with the Long Tower Youth Club and there was great chat and camaraderie.
"I know we were all worried about the whole thing but you felt you are not there on your own. At least you can go to someone if you are concerned. I felt that was the most important thing that happened during COVID-19."
Jeanette found that the club vastly extended the circle of people it reached over the course of 12 unforgettable months.
"We built up this link with local families, maybe some that you didn't go to all the time because we are normally focused on working with youth and not everyone in the Fountain was involved in the classes and so on. You wouldn't have been sure of what their needs were.
"But now I can tell you every house in the Fountain. They know you are there for them and to be honest I've been delighted with the response when they send you a wee thanks by text message, and they give us wee cards.
"It's just mind-blowing and it's nice to feel that it's valued."
Jeanette says the youth club also broadened its horizons and provided a range of services to what the Fountain diaspora - people who have left the city centre estate and are now living in the countryside.
"We saw people who were living away out in the sticks, in the rural area. We went out and targeted them as well and made sure they got a wee pack.
"It all depends on the way you do these things. You don't want people to feel it's a charity. Some older people did feel that but we talked them round and then we started to do hot meals and prepared dinners and take them round. We did those once a month.
"You have to be sensitive with it and say, 'we want to do this for you'.
"You feel privileged to do it. I had a wee team of volunteers and I could not speak highly enough of them. I couldn't have done it without them."
Jeanette confesses that the logistics of sourcing material for support packs was one of the more time-consuming tasks undertaken during 2020.
Negotiating COVID-19 restricted supermarkets was a headache, she says, a judgment many will concur with.
"The part that was the hardest for me was going and buying the stuff. I went around all the supermarkets to wherever I could get the best deal and that was hard because it took up an awful lot of time.
"I thought at the time this is going to be a one-off situation and we didn't realise it was going to last a year or more," she says.
Ironically the pandemic reached these shores just as the youth club was getting ready for construction to commence on its brand new premises.
"Just after St. Patrick's Day we were supposed to work from home. I tried it but I was back in.
"I was trying to get the youth club tidied up because I knew they were starting building in June."
Jeanette spent a hectic three months filing and sorting roughly 49 years' worth of paper work.
While juggling the demands of the new build the youth club volunteers sought out some of the older members of the community who are now living in the various care homes around the city.
"We went to some of the homes and gave them toiletries because we knew people weren't getting in to visit them.
"I have an aunt, who is 101, in Seymour Gardens, and I knew from going there that these critters weren't getting all their toiletries so we gave toiletries in to the different homes and also the House in the Wells down in the Bog."
Jeanette says that despite the tremendous toll the pandemic has taken on entire community it has been a privilege to serve the people of the Fountain and beyond in their time of need.
"I think it has been the most fulfilling thing in my career to do this and I know it was COVID-19 and I know it was a risk but, honest to God, I would do it all over again.
"I got so much out of it and the volunteers got so much out of it and it was great to put a smile on people's faces and that's the truth.
"There's no such thing as orange and green. We were all there for our communities. We were there for each other and honest to God I never seen support like it in my life."
She is also hopeful that we will soon return to something that looks a lot more like normality.
"We've all been through COVID-19 now. We're on to the second vaccine now. I've got it.
"We should be so thankful that we've got through it.
"I know there are poor families who have suffered bereavement and my heart goes out to them who have lost people who didn't make it.
"I think we should thank God that we have made it and come out the other side."
The building of the new centre did get underway last summer and Jeanette and the team are rearing to get back in there and open it up to the community.
In the meantime the have been working in a flat as a stop-gap measure until they get the green light.
"We'll continue with our work. We've got a beautiful centre that started on June 8. It's finished now and we are just waiting on the go ahead now for the construction firm to hand over the keys. We'll be flying.
"Once the restrictions are eased we hope to be able to open the doors to some people in the near future.
"I think they need it at the minute. They need the support. I feel sorry for the kids and teenagers, I really do.
"My heart goes out to them. I'd love to get them all involved. I'd love to get them all away to a beach and let them run mad. As soon as we get the green light we'll be opening up."