Joyce Logue tells Derry cuts rally: Our children are being neglected and deserve more
Joyce Logue, the principal of Long Tower Primary School, told Derry's Day of Action against cuts on Thursday that 'our children are being neglected' in the wake of Chris Heaton-Harris' Budget 2023-24.
Published 26th May 2023, 09:50 BST

- 2 min read
Updated 26th May 2023, 11:07 BST
Mrs. Logue, addressing the large attendance at Ebrington Square, said the proposed cuts to extended schools, Sure Start and education and community funding in general was a 'false economy' that would necessitate increased expenditure in the future.
"Over the past ten years and more we have been impacted by cuts which as school leaders and school staff we have tried to cover that up. We have tried to do the best for our children and often we have done that with the support of community workers, with out parent, teacher associations with our parents.
"We are at the end of the road with this," she said.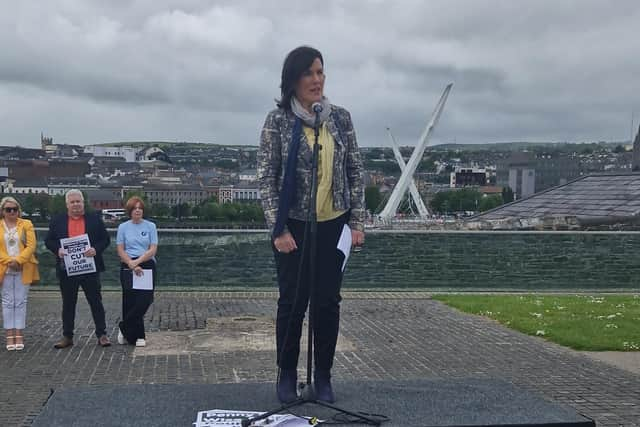 The local school leader said the scrappage of the extended schools programme which supports children from disadvantaged areas with breakfast clubs and other initiatives was particularly regressive.
"We need something done about our extended schools, about the cuts. In 2006 extended schools was brought in. Extended schools was brought in for a reason.
"A lot of research went into it and they realised that a wraparound service gave our chiddren, our most vulnerable children the best chance at schooling and the best chance to improve and get out of the cycle of poverty.
"That was brought in in 2006. In 2008 we had an economic crash. In 2020 we had COVID as well as everything in between. Those impacted on schools severely and impacted on the community groups and everybody about us.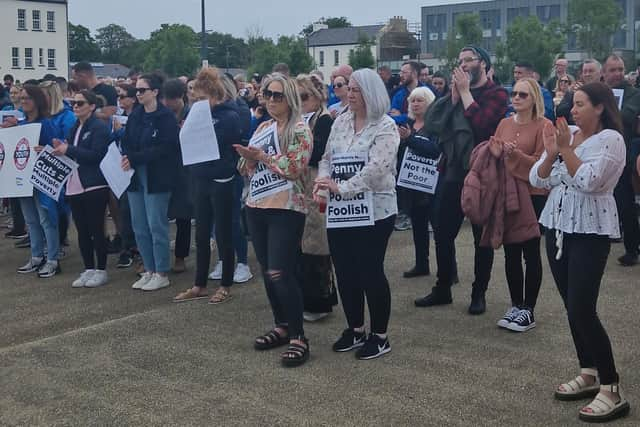 "But what happens now when things are getting worse? They cut us down even more. We need more.
"You may ask, what does a breakfast club do for a child's education? Well I'll tell you what a breakfast club does for a child's education. A breakfast club enables a child to be set up for that day, enables a child to engage in learning, makes sure that the child's brain is working properly and is ready to learn.
"What does counselling do for a child? I don't think there is anybody here who needs me to explain that. It breaks down all those barriers to learning.
"It helps children access the curriculum. It helps children achieve. It is very, very short-sighted to cut services now for our very young children. We are at primary school and our primary school has a nursery school so the cuts impact on the nursery," said the school head.
Mrs. Logue also warned of the impact of cuts to the Sure Start programme that supports parents with children aged under four years old
"It is a false economy. If you are cutting money now you are going to be paying a lot more in services in years to come to bring those children up to where they should be at.
"Our children deserve a lot more than what they are given. If our children and school were being neglected we would go and seek help. We would source out help. Our children are being neglected at the minute and we need to do something about. Our children deserve more."