NWRC student Declan is a finalist at NI Apprenticeship Awards
A student at North West Regional College (NWRC) has made the finals in the NI Apprenticeship awards.
Friday, 19th March 2021, 10:20 am
Declan McEleney is currently studying for the Level 3 Diploma in Fabrication and Welding, one of the Welding courses offered by NWRC in a bid to tackle the chronic shortage of skilled welders in the north west.
He said: "It is a great honour to be shortlisted for the NI apprenticeship awards. I participated in placement as part of my course and I would really recommend the Fabrication and Welding course as it is a great trade to learn."
The 19-year-old, who is also an Apprentice with Fleming Agri, was recently nominated for the awards which seek to recognise excellence and showcase the apprentice opportunities available to young people.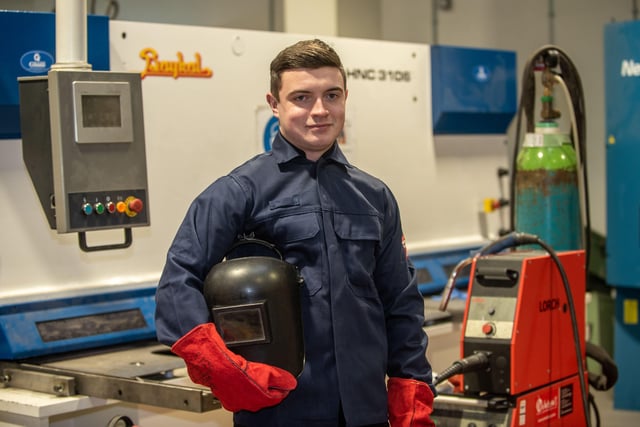 Declan McEleney, an apprentice at NWRC and Flemi Agri has been shortlisted in the NI Apprentice awards. (Picture Martin Mckeown)
John Cartin, Deputy Head of Training and Skills at NWRC said: "We are delighted with the news that Declan has been shortlisted for this award.
"Interest in Apprenticeships in all areas continues to grow and we are regularly in contact with employers across the North West whose business are in urgent need of skilled workers in areas such as Fabrication and Welding, Electrical, and Carpentry and Joinery.
"NWRC seeks to address this skills shortage through the courses and apprenticeships we offer, as well as our Assured Skills academies, with support from the Department for the Economy.
"Declan is currently in the first year of a two-year Welding course with NWRC, and has already proved himself to be a dedicated and talented student, committed to his studies and practical assignments.
"We wish him the very best in the awards next month."
Maggy McCartney, HR and Health and Safety at Fleming Agri said: "Declan is committed, attentive and hardworking, we are delighted to have him on the team and wish him great success with the Apprentice of the year finals."
The Northern Ireland Apprenticeship Awards 2021 will be hosted in a special 'virtual awards' ceremony on Wednesday 28 April 2021, one of the highlight events during Northern Ireland Apprenticeship Week 2021, which will run from 26 to 30 April 2021.
For more information on Training and Skills courses at NWRC go to www.nwrc.ac.ukNWRC will host a virtual Open Day on Wednesday, March 24, 2021 via their website and social media channels. For more information go to www.nwrc.ac.uk/opendays