Nearly 100 in Altnagelvin A&E with 38 'very sick' people in need of beds; too many in hospital longer than necessary
Nearly a hundred people are currently in the Altnagelvin A&E with 38 'very sick people' awaiting beds in the general hospital for further treatment.
Published 3rd Feb 2023, 15:33 BST

- 2 min read
Updated 3rd Feb 2023, 16:32 BST
The Western Trust has said its hospitals are 'under severe pressure' and are 'operating beyond capacity'.
Public assistance in freeing up beds in the Derry hospital is being requested by clinicians at the local health authority.
"Our Emergency Department at Altnagelvin Area Hospital is under pressure this afternoon due to the number of patients attending and the number of patients currently awaiting admission to hospital.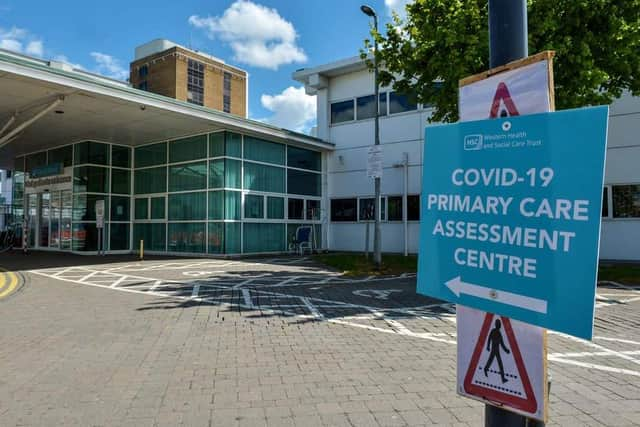 "There are currently 97 people waiting in the Emergency Department, so if your condition is triaged as less urgent, you will face a long wait. 38 very sick people are awaiting admission to hospital for further treatment or investigations," the Trust said on Friday afternoon.
The Western Trust has asked people only to attend A&E if absolutely necessary.
Clinicians are also appealing for people to work with the Trust to ensure timely discharges from hospital if a consultant deems them to be medically fit.
The health authority said there are too many people in hospital who 'no longer need to be there'.
"Our hospitals continue to be under severe pressure, operating beyond capacity, and we need to make sure there are beds available for those who need care the most.
"If we can't get people who no longer need to be in hospital out of hospital, then we can't get seriously ill patients in.
"At present there are too many people in our hospitals who no longer need to be there. Unnecessary or prolonged hospital stays can have significant impact on your long-term recovery.
"If you, or your loved one, are in hospital and are told by a doctor that you are medically optimised to be discharged, then we need you to work with us to get you home, or into an appropriate community care setting.
"We ask for your support and co-operation in helping ease the pressure on our front line services by facilitating timely discharges," the Trust stated.
If you have an urgent, non-emergency medical situation, please use the Phone First service on 0300 020 6000 where medical personnel will direct you to the best route of treatment, which may include attending our Urgent Care and Treatment Centre, Omagh Hospital.