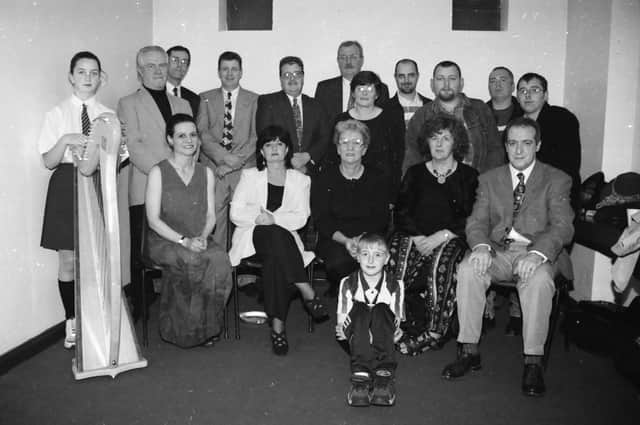 Some of the performers at the Creggan 50th Festival Midsummer Gala Evening held in St. Mary's Community Centre. Seated, from left, are Mary Crumley, festival organiser, Bernadette McFarland, Teresa Moore, Patricia Mulkeen (The Creggan Belles), and John Peoples, director, St. Mary's Choir. Back, from left, are Aine McDevitt, Jim McDermott, Pat Lynch, Gerry Doherty, Eddie Kerr, Kevin McCallion, cast of 'The Walls of Derry', Cora Baker, producer, Dougal McPartland, Phil McGerigal, Paddy Nash and Declan McLaughlin (Screaming Binlids). At front is Kevin Kerr.
NOSTALGIA: Derry and Inishowen in pictures - June 1997
In June 1997 ongoing speculation about the future of the Wellworths stores in Derry and Strabane came to an end with news that in a joint take-over the third largest supermarket chain in Britain, Safeways and Ireland's fastest growing chain, Musgrave, had acquired a total of 36 Wellworths stores in the North; and efforts to save the popular Lloyds Signal Station in Malin head from private purchase were being mounted after the sale of the landmark was advertised in the local media. As ever the 'Journal' photographers were on their beat.
Monday, 20th June 2022, 10:17 am