WATCH: Seals race from cave on uninhabited Irish island
A Derry sailor has shared some fascinating footage of seals racing from a cave on an island off the coast of Ireland.
Published 14th May 2021, 13:51 BST

- 2 min read
Updated 14th May 2021, 15:22 BST
Ken Curry - who is well known in the city due to his involvement with Foyle Sailability - posted the video yesterday alongside many pictures showing the stunning beauty of the Donegal coastline and some of its wildlife on his Facebook page.
Ken was visiting Inishtrahull, which is the most northerly island of Ireland and lies about 10 kilometres (6.2 miles) north-east of Malin Head. Inishtrahull is also home to Ireland's northern-most lighthouse. The island had a resident community until 1929 and the lighthouse was manned until 1987. However Inishtrahull is now uninhabited and has been designated a protected area due to its wildlife.
Writing on his Facebook page, Ken said: "Went over on Amazing Grace with skipper Eddie Doherty. He charters from Bunagee and does trips to Malin Head and Inishtrahull. Perfect day... We went out to check the mooring and it was such a good day Eddie gave us the guided tour of the island. Wealth of knowledge. Just one of those perfect days."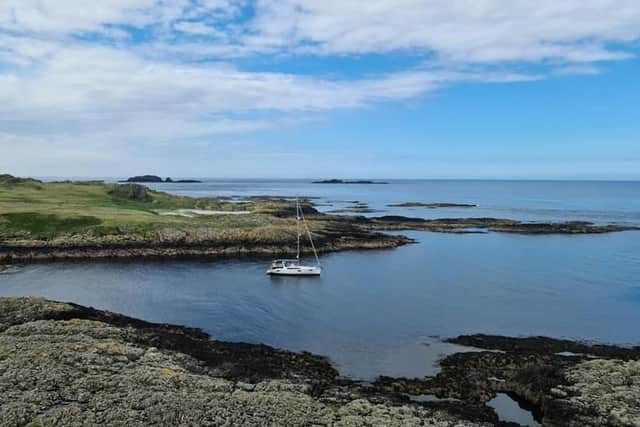 He also noted on Thursday's post: "The wildlife is fantastic. Hundreds of seals on the island. Didn't spot any dolphins yesterday but they have been spotted earlier this week by the fishermen."
With his permission we have published one of the videos here, alongside pictures taken by Ken of the lighthouse, the moored boat and an abandoned home.
The island's geographical location and lighthouse attract many unusual birds, as well as a population of grey seals. The island and its adjacent 90-metre depth tidal sound attract basking sharks and cetaceans in large numbers during the summer months. Many scuba-divers use the island's Port Mór as a lunch spot while out surveying the hundreds of wrecks off its shores. Access to the island is limited by the dangerous tides and currents around Malin Head and the island itself. There are landing restrictions enforced by the National Parks and Wildlife Service and the Commissioners of Irish Lights (present owners of the island). Particular care is requested by visitors during the breeding bird period of May–July.