12 things to do in Derry this week
There's plenty on in Derry this week, August 25 to September 4.
Friday, 26th August 2022, 3:26 pm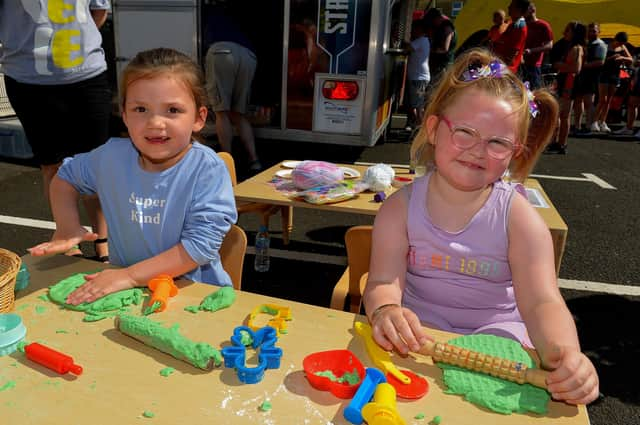 Saoirse and Leah pictured at the Gasyard Féile's Big Bog BBQ. Photo: George Sweeney. DER2232GS – 073
WATERSIDE HALF MARATHON 2022. . . . The Mayor of Derry City and Strabane District Council Sandra Duffy pictured at the Peace Bridge for the launch of the Waterside Half Marathon 2022 'We Run This Town'. The event will take place on September 4, 2022. Included are Catherine Ashford, Festival and Events Department, Derry City and Strabne District Council and local marathon runner Kyle Doherty.
Laughs at the Aaron Mccann & Guests in Brickwork on Thursday, September 1. A much loved regular in the NI comedy scene is returning to brickworks after bringing his much loved comedy to London, Edinburgh, New York, and L.A.
The 2022 Annual Seamus Deane Honorary Field Day Lecture in the Playhouse on Saturday, September 3. Given by the renowned political scientist Dr Brendan O'Leary. The lecture, entitled 'Key Choices in Irish Reunification', will coincide with the publication of Dr O'Leary's forthcoming book, Making Sense of a united Ireland.
Daniel O'Donnell in the Millennium Forum, Wednesday August 31 - Thursday September . Loyal fans are delighted that Daniel is getting back to touring. It's been a long wait for those in Ireland both north and south of the border, and Daniel is just as excited about it as the fans are. He say: "I have so missed our live shows, there is nothing like performing to a live audience. I cannot wait to see you all."
Walled City Markets on Saturday September 3. Derry City & Strabane District Council is delighted to welcome back the Walled City Market on the first Saturday of every month. Join traders in Guildhall Square for a unique shopping in a safe, socially distanced outdoor environment
Aslan in the Millennium Forum on Friday, September 2. Aslan came together as a band in 1982, which means they are forty years together in 2022, an amazing achievement for any band. Over the forty years they have had numerous chart successes, toured the world, broken up, made up and given us some classic songs such as This Is and Crazy World. Today, Aslan continue to entertain the masses in many of Ireland's and the UKs premier venues.
The Elvis spectacular show is irelands longest running and most successful ELVIS production, now in its 26th year the shows Star is European champion CIARAN HOULIHAN with his TCB BAND and the SWEET SENSATIONS.. Millennium Forum, Saturday, August 4.
Old MacDonald's Farm, Millennium Forum, Sunday, September 4. Friendly Sammy Scarecrow is enjoying his first day on Old MacDonald's Farm and loves meeting all of the colourful characters who live there. When a mystery unfolds on the farm, can you help Scarecrow find out what's going on?
Weekend Painterly Screenprinting Course with Paul Barwise in Derry Print Workshop. Saturday and Sunday, September 3 & 4. Learn how to utilise screenprint in a free, painterly way. Focus will be on using the process to produce unique painterly screenprints. First, you'll explore markmaking, colour mixing and printing process. You will walk away with as many multi colour screenprints as you can make.
Cultúrlann Uí Chanáin is hosting an open day for their music academy, Acadamh Ceoil, on Saturday the 3rd of September from 11am-1pm. This will be an opportunity to meet the tutors, learn how they can support your musical journey, and get a taste of what learning an instrument feels like at the North West's premier hub of traditional Irish music. Lessons begin on the 12th of September and offer a wide range of instruments as well as sean nós singing and dancing. All ages and abilities welcome. No booking necessary. Address is Cultúrlann Uí Chanáin, 37 Great James' Street, Derry BT48 7DF. For more information: Phone: 02871 264132, Email: [email protected] www.culturlann.org
Looking for a way to update your wardrobe that doesn't cost the earth? Look no further than this Friday's Swap Shop, held as a collaboration between An Cultúrlann Uí Chanáin and Clothing Swap Derry! Bring your pre-loved clothes down to An Chultúrlann on Thursday the 1st of September between 6-8pm to receive your swap shop tokens. These can then be exchanged on the Friday evening for all the rest of the vintage goods brought in. The event doesn't end there however, with eco stalls to check out, a late cafe opening, and an Irish language Fast-Fashion video being premiered, this is an event not to be missed.