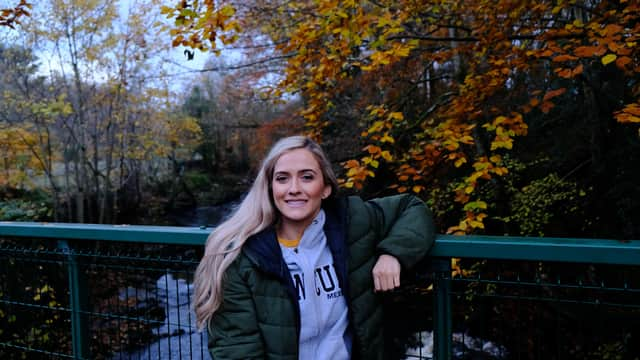 Eileen O'Donnell is set to represent Ireland at this year's Miss Earth pageant at the weekend.
Eileen O'Donnell, who was crowned Miss Bikini Ireland in 2017, was selected to represent Ireland in October.
Speaking about the pageant, which will be held online this Sunday, November 29, Eileen said: "Miss Earth is an international pageant, one of the top four pageants in the world, and its focus is to promote environmental awareness. I was elected on October 17 to represent Ireland, and it has been non stop ever since! I've had to complete a range of pre-recorded videos, and attend live virtual events aired on Youtube and Facebook.
"The competition would normally be held in the Philippines as part of a month long event, but due to the pandemic this couldn't happen. Instead of cancelling the pageant, the Miss Earth Organisation and Carousel Productions decided to pave the way and produce a pageant virtually. It has been very demanding but equally as rewarding. It was an opportunity that has been eye-opening for me on the environmental challenges we are facing globally."
Eileen said that during one of the segments of the pre-pageant competition, a typhoon hit the Philippines, causing the event to be postponed. "It was very worrying to know that people were in immediate danger, at the very Head Quarters of the Miss Earth Organisation. Thankfully, this typhoon passed and they are safe but they are still having to deal with the destruction left behind," she said.
Eileen has had great support locally since she won Miss Bikini Ireland in 2017. She explained: "One of my sponsors for the past few years has been a company called Nichelle Jewellery Design based in the UK, they have supported me continuously since I won my previous title. I've also been very lucky to collaborate with some amazing local businesses which has been really fun. The breath-taking crown for my 'National Costume' was made by Sass & Halo. My video footage throughout was captured by Ghost Productions LK and my make up on set was done by Blush and Glow by Dani. It makes it even more special to showcase Ireland alongside hard-working business that operate here in Derry."
Speaking about the environmental aspect of the Miss Earth pageant, Eileen said that her advocacy focuses on waste, as it "continues to be one our top environmental concerns."
"For the competition, I have come up with an acronym for the word waste - 'We All Should Treasure Earth'. There is no time to wait, when it comes to waste. Disposing of waste has a huge environmental impact and can cause serious problems. In Ireland, we struggle with littering and fly-tipping, which indicates that an element of our society disregards the environmental impact of poor post consumption behaviours. As our population grows, we are putting further demands on waste infrastructure. Therefore, we must keep waste prevention programmes and eco-design at the core of policy and economic initiatives to ensure environmental sustainability, as well as maintaining the beauty of Ireland.
"It is an honour to represent Ireland in one of the most prestigious pageants there is. To be an advocate of environmental awareness is not only very rewarding but eye-opening, We must challenge behaviours to make fundamental change."
The final stage of the competition, including the coronation, will take place this Sunday, November 29, and it will be streamed live online.
Although it is set to be a tough contest, Eileen is excited for the final. "There are 84 delegates globally so it will be tough. If I was to place in the Top 20 at Miss Earth 2020 it would make history for Ireland. It has never been done before at Miss Earth," she added.