Inishowen's defective concrete block facilitator to hold weekly clinics across the community
Inishowen's newly appointed Defective Concrete Blocks (DCB) Facilitator plans to hold weekly clinics across the peninsula to reach out to the community members who are in the process of applying for the redress scheme.
Watch more of our videos on Shots! 
and live on Freeview channel 276
Visit Shots! now
Michelle Coyle officially joined Inishowen Development Partnership at the end of February as the company's new DCB Facilitator and since then she has hit the ground running.
One of two DCB Facilitators in the county, Michelle is only too aware of the challenges the role will bring given the numbers affected.
However, Michelle plans on holding weekly clinics to meet with the public and provide one to one support from 10-11.30am.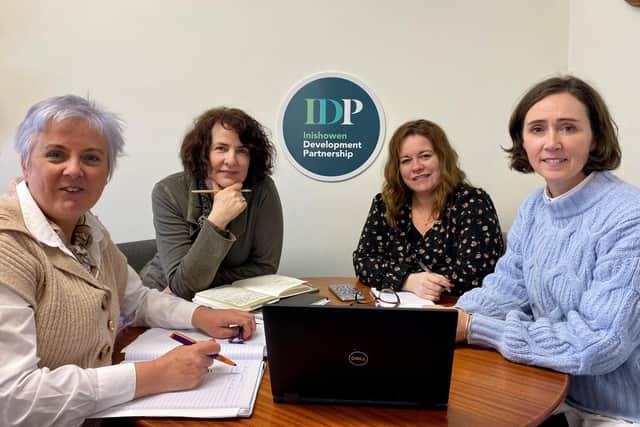 They will be in different locations across the peninsula. Starting Monday, March 27, the clinics will be Mondays in Buncrana, then move to Moville Family Resource Centre on Tuesday mornings, Malin Head Community Association on Wednesdays, IDP office at Pound Street, Carn every Thursday and finally Clonmany Community Centre will be her base every Friday morning.
These clinics are open to the public but it should be noted that spaces are limited for the one-to-one sessions, so booking is essential. Priority will be given to households that are most in need of urgent support and Michelle has been working with the Mica Action Group (MAG) who have been referring households they have identified in need of support.
To book your slot please contact Michelle through IDP on 074 9362218 or for more information on how Michelle can provide assistance to you email her on [email protected].
Gerri Moran has been installed as the DCB Facilitator for the rest of the county. She will be based at
Donegal Local Development Company in Letterkenny and will also provide outreach clinics in various
parts of Donegal.
Michelle is looking forward to getting out into the community and meeting with those affected by defective concrete blocks.
"I see so many families faced with obstacles in trying to access the redress scheme and I want to help in alleviating the stress. I feel this project is a small step towards helping our community move forward," said Michelle.
Practical support in the various steps and stages of the process are part of Michelle's work. From scanning and uploading documents, to offering information sessions where homeowners can also learn about other supports out there, as well as tips and signposting on the various aspects involved in the whole process.
Meanwhile Inishowen Development Partnership Team Lead Denise McCool is hoping that IDP can continue their team approach, with the new DCB role, whilst also recognising the magnitude of the position.
She said they will also continue to work with other agencies, community groups and support services which we have worked with over the last number of years to support households affected by DCB and MICA.
"Our local interagency IFAN DCB/MICA subgroup, set up in July 2021, are working with Michelle to ensure that her work is reaching families who need this support most," said Denise.
" The community support on the ground continues to be vital for households, and the outreach clinics will further enhance this work.
"Michelle has linked in with key organisations locally and with MAG to get the service off the ground quickly. We are delighted to have her on the team," she added.
The DCB posts are supported by the Department of Housing, Local Government &; Heritage,
through Donegal County Council.