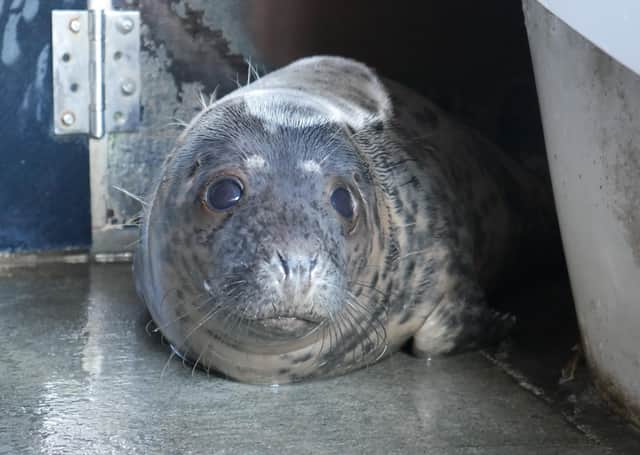 Atria, pictured recently at Seal Rescue Ireland.
The pup, named 'Atria' by rescuers was found malnourished and weak on the Inishowen beach at the end of January.
She was rescued with the aid of locals and Seal Rescue Ireland, before being taken to the charity's sanctuary in Co. Wexford..
Speaking to the Journal this week, Seal Rescue Ireland was happy to report that Atria is doing very well.
Not only is she turning into a 'stunning seal,' Atria has now put on weight and is almost at 15kg. When she entered the sanctuary she was just 10.5kg.
Seal Rescue Ireland outlined how Atria was first tube-fed an electrolyte solution to make sure she was well hydrated and that her digestive system was functioning properly. She quickly transitioned to fish soup, a nutritious blend of herring, salmon oil, and electrolytes. Atria was also given de-worming medication to treat any potential parasites she may have had and was put on a course of decongestants to treat her cough and a probiotic to improve her digestion.
Melanie Croce, Executive Director of Seal Rescue Ireland said Atria 'has a great personality and is often the star of photoshoots and live streams because she is so curious and interactive.'
"Her furry mittens and slippers have now moulted, but she still has a few lingering clumps of long white hair on either side of her head (which we have likened to Bernie Sanders).
"She is still quite small and in the ICU, but she is making great progress and hopefully will be big enough to make it to the kennels soon."
Alpha Trianguli Australis, officially named Atria is the brightest star in the southern constellation of Triangulum Australe, forming an apex of a triangle with Beta Trianguli Australis and Gamma Trianguli Australis that gives the constellation its name (Latin for southern triangle).
As this is a bit of a tongue twister, the seal pup was given the shorter name, Atria.