10 things to do in Derry this week
There's plenty on in Derry this week, August 22-28, from big name musicals to lunchtime concerts.
Friday, 19th August 2022, 4:30 pm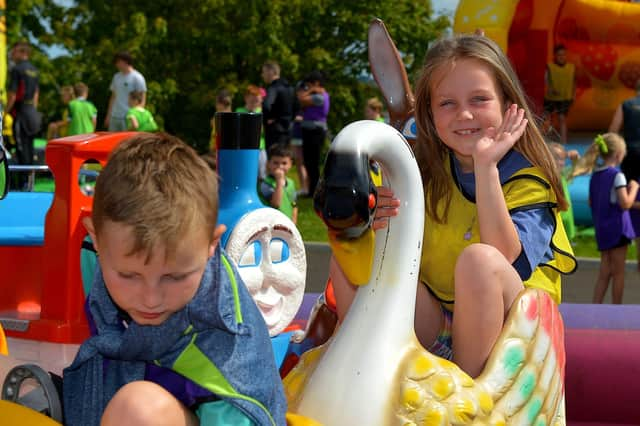 Having a nice time at the Hillcrest Trust and Irish Street Youth and Community Association's Waterside Shared Village Summer Scheme at the An Chroí Community Hub. Photo: George Sweeney. DER2230GS – 017
Foyle Pride Festival 2022. The festival will run from Sunday, 21 to Saturday 27 August with events throughout the city and district. More information at @foylepride on Facebook.
RFR Residency at Void - part of Foyle Pride Festival: The REWIND<>RECORD (RFR) initiative is hitting Derry with an exciting programme of events aimed at exploring the rich history of Foyle Pride and LGBTQ+ activism in the city. On Tuesday 23 August, 6:30-8:30pm The cumulative artistic outcomes of each workshop will be displayed alongside RFR's series of vibrant protest banners created with the Out South Central group and Tullamore LGBTQ+ Youth to be launched at an open event on Tuesday, August 23 at 6.30pm, signalling a great week of celebrations ahead of the Foyle Pride parade.
Family Drop in Day with artist Zoe McSparron. Saturday 20 August, 12 - 4pm. The family drop in day is coming over all Pride to celebrate the Foyle Pride Festival on the 28th August. Join artist Zoe McSparron in Pride inspired activities and create something special to bring along to Foyle Pride.
SIX in the Millennium Forum. August 23-27. The international smash hit musical SIX is coming to Millennium Forum. Multi award-winning, with a spectacularly successful sound-track storming charts across the globe, this sell-out Tudor take-off has 'an incredibly strong and powerful message. From Tudor Queens to Pop Princesses, the six wives of Henry VIII take to the mic to tell their tales, remixing five hundred years of historical heartbreak into an 80-minute celebration of 21st century girl power. These Queens may have green sleeves but their lipstick is rebellious red.Think you know the rhyme, think again: Divorced. Beheaded. LIVE! Tickets at millenniumforum.co.uk
New Pagans on Saturday 27th August at 7:30pm in the Nerve Centre, Fresh from wowing crowds on their 6000 mile European tour supporting the legendary Skunk Anansie, New Pagans return to Derry!
Giuseppe's Ballroom in Cultúrlann Uí Chanáin on Friday, August 26. For the full Pride experience, look no further! Giuseppe's hosts the finest of local DJs, cabaret and tasty refreshments to keep you entertained 'til home-time. An alcohol-free space, this is a world where you can dance freely, love openly, and sing your heart out without the headache. All proceeds go to The Rainbow Project. People are asked to not consume alcohol before or during this event for the safety of others. Accessibility information: darkened room, flashing lights, loud music, smoke machine, wheelchair accessible, accessible bathroom, quiet café area and quiet room. Price: £5.
Duel at Sundown with Tessio. & More in The Grand Central Bar. Sunday, August 28 at 6pm. The first instalment of Duel at Sundown takes place this bank holiday Sunday with Tessio. , Casanova Jackal & Ryan Ward. Tickets £5 and available on Eventbrite.
The Big Gay Quiz with John O'Neill in Sandinos Bar/Club on Monday, August 22 at 10pm
Afrobeat Night at the Cosh bar on Friday, August 26 at 8pm. A fun night with Afrobeat music for Africans and Afrobeat music lovers.