50 years ago this week former IRA chief Hugh McAteer died suddenly
Fifty years ago this week Hugh McAteer, one of several  people from the northwest to have held the position of Chief of Staff of the IRA, died suddenly in Belfast.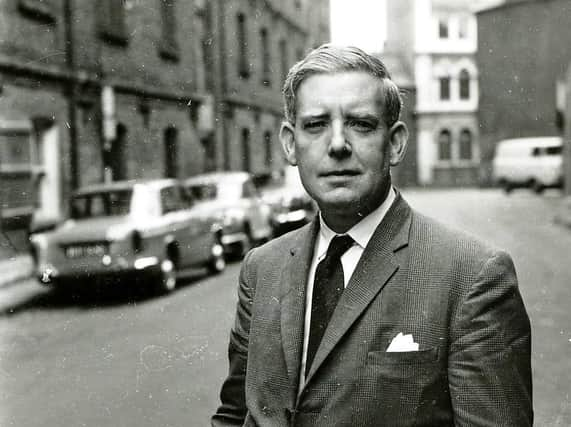 Mr. McAteer was 53 when he was passed away after collapsing outside his Falls Road travel agency on the afternoon of Wednesday, June 24, 1970.
According to this newspaper there was 'a sense of shock and deep regret in Derry' when news of the well-known republican's death became known in the city.
He was described by the paper as 'a fighter for the freedom of Ireland from his early days and one of the most noted figures in Republican circles for over thirty years'.
He was also, of course, the younger brother of Eddie McAteer, the former leader of the Nationalist Party in the old Stormont.
Mr. McAteer was born in Derry in the year of the 1916 Easter Rising.
He was reared in William Street and is known to have become active in the IRA in the 1930s when he was still in his teenage years.
"Mr. McAteer was first arrested at his parental home in William Street, Derry, in 1936, on an arms charge.
"Originally his father, the late Mr. Hugh McAteer, and his three brothers, Eddie, Sean and Dan, were also arrested but Hugh accepted full responsibility for the arms found.
"He was sentenced to six years in prison. In 1942 Mr. McAteer was again arrested, this time on a charge of treason felony and sent to gaol for fifteen years," the 'Journal' reported in a biographical tribute that was published on Friday, June 26, 1970, two days after his death.
At his trial in 1942 Mr. McAteer had been described as the commander-in-chief of the IRA and is thus one of a small group of people from this part of Ireland believed to have served in the role for various iterations of the organisation over the past century.
Others have included Joe McKelvey (Stewartstown), Seán McCool (Stranorlar), Eoin MacNamee (Greencastle, Sperrins) and Martin McGuinness (Derry).
Mr. McAteer was an immediate successor of Eoin MacNamee and, before him, Seán McCool, at a time when northerners were in the ascendancy at leadership level.
Following his imprisonment for 'treason' Mr. McAteer was involved in one of the 'most dramatic jail escapes in Irish history' when on January 15, 1943, the then 26-year-old escaped from Crumlin Road jail with three other IRA prisoners, Patrick Donnelly, Ned Maguire and Jimmy Steele.
"They cut a hole in the roof of Belfast jail and scaled the walls. Mr. McAteer fell in the process and was badly injured. He lay for some minutes outside the prison, undetected, and then made his way to the home of a Protestant family in the Shankill Road, with whom he had become acquainted before being sent to prison. He stayed with them for two months.
"His escape made the world headlines and the Stormont Government offered a reward of £3,000 for his recapture. As if in answer to that Mr. McAteer made a sensational appearance on the stage of the Broadway Cinema in Belfast after members of the IRA had surrounded the building. He read the 1916 Proclamation from the stage.
"He was recaptured in a police trap several months after his escape, the police having apparently prior notice of his movements," the 'Journal' reported of some of his exploits.
Mr. McAteer was released from captivity in 1951 and married Nora McKearney from Odessa Street on the Lower Falls who had also served three years imprisonment for IRA activities.
The 'Journal' recorded: "He returned to his native Derry and for nearly fifteen years was associated with the Foyle Travel Agency owned by his brother Eddie.
"He returned to Belfast four years ago to set up a travel agency there and he quickly established a very extensive business, organising many American and continental tours."
The paper noted: "Mr. McAteer's aim always remained the reunification of Ireland and he never compromised his Republican ideals. He contested the Co. Derry constituency in 1959 against the sitting Unionist Sir. Ronald Ross and in 1964 against the present Unionist member Mr. Robin Chichester-Clark."
Survived by his wife Nora, sons Aidan and Brian, and daughter Moira, he was buried from his home in Crocus Street, off the Springfield Road, on Saturday, June 27, 1970. A statement from the Derry City branch of the Irish Republican Movement at the time said that 'Mr. McAteer was active in the IRA since his youth and had played a very active part during the bombing campaign of 1939-45 and was active in a later resistance campaign of 1956-62'.
"At the beginning of 1960 Mr. McAteer held an executive position in the Release the Prisoners Committee and was generous in his assistance to the families of local Republicans who were interned during that period.
"In 1964 he polled 22,000 votes as the Republican standard bearer in the Imperial Election. His most recent activities concerned the defence committee in Belfast, where he took up residence in 1966."