Derry MLA brands Tory budget cuts 'savage' and says impact 'indefensible'
Sinn Féin MLA Ciara Ferguson has said cruel Tory budget cuts imposed on local communities are 'immoral and indefensible'.
Published 12th May 2023, 14:09 BST

- 2 min read
Updated 12th May 2023, 14:09 BST
Responding to proposed Budget cuts announced by the Department for Communities , the Foyle MLA said: "Cuts to much-needed community services are a direct result of the punishment budget forced upon the department by the Tories in London.
"Local communities are the latest to be hit by the Tory axe and the damaging budget being imposed on the Department for Communities from London."
Her comments came as the Department for Communities launched a public consultation on funding proposals as part of its Budget Settlement for 2023-24 financial year and urged people to respond.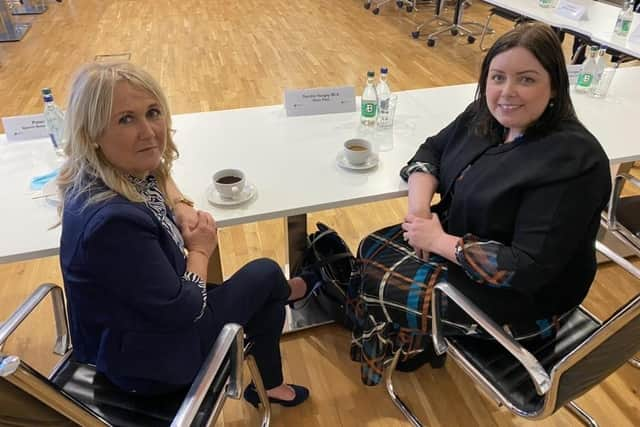 The Department, which itself employs 9,000 staff – almost a third of the civil service – has confirmed that it is now faced with a resource funding gap of £111.2m (15.5%) and a shortfall of £59m (27.3%) in capital required for 2023-24.
The budgetary challenge is compounded by resource reductions of £290m (30.9%) over the last decade, the Department has said.
This comes following the announcement by the Secretary of State on the 2023-24 budget allocations.
Ms. Ferguson said: "These cuts are immoral and indefensible and will be felt by everyone in all communities across the north, particularly those on the lowest income."
Ms. Ferguson said Stormont must be restored as she pointed to the "pain and suffering of communities who are crying out for support".
"We need the Assembly and Executive restored now and parties working together to invest in local communities and protect services from these savage cuts. People cannot wait any longer."
The Equality Impact Assessment (EQIA) sets out the Department's initial assessment of the impact of the Draft Budget on spending proposals for the 2023-24 financial year and the potential impact on a range of public services.
The Department said it 'welcomes comment on any aspects of the document'.
"Interested parties are encouraged to make responses by June 7, 2023, which will used to inform the Department's allocation of 2023-24 funds.
"Any further consultation responses received between June 7, 2023 to July 19, 2023 will be used to inform further mitigation measures and reallocation of any additional funding available during 2023-24.
"Responses are sought by the online survey, email or post."