'I have been so blessed, I loved every minute'
An award-winning local school principal who has announced she is to retire has said she is 'heartbroken, but I leave with a happy heart'.
Published 3rd Jul 2020, 11:45 BST

- 3 min read
Updated 3rd Jul 2020, 12:31 BST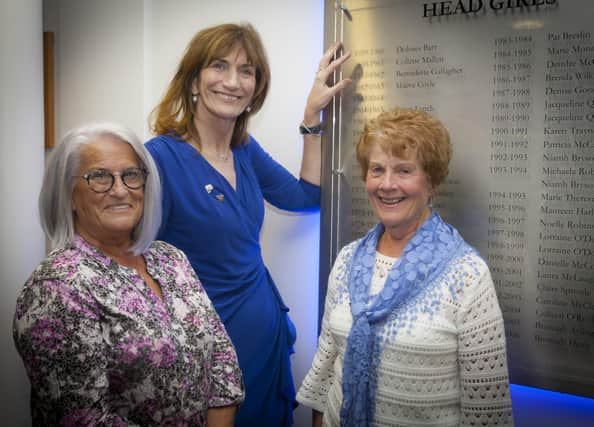 Marie Lindsay, who has been principal of St Mary's College for the past fourteen years, has said she will always consider herself a 'St Mary's girl and hopefully an honorary Derry girl too.'
The proud Donegal woman joined the staff of St Mary's in 1985, teaching maths and science. She later became a member of the senior leadership team within the school before becoming principal in 2006.
In 2016, Marie was named Principal of the Year at the Foyle Blackboard Awards and in April 2018 she was inducted into the Business Excellence Hall of Fame.
She was one of only three recipients from across the world to be added to the 2018 Hall of Fame, which was established in 2016 to recognise and celebrate people who have made a significant contributions to the organisations in which they have worked or to society at large.
Marie said that she could stay in St Mary's 'forever' but a recent illness and the addition of four grandchildren to her family made the decision for her.
"I probably could never have left St Mary's, but God in his wisdom has now set a new path for me.
"I was diagnosed with cancer last year and I have come through treatment. I don't know what lies ahead, but I am very, very thankful I am well at the moment.
"Then with the addition of my four grandchildren, two sets of twins, the decision was taken out of my hands."
Marie said she has 'loved every minute' of her time in the school.
"I loved my job and I was so lucky, even through the very hard bits of it, I just loved being principal. I am heartbroken to leave, but I leave with a happy heart.
"The school was an extended family. The girls are amazing and so, so full of goodness. They were my inspiration, as I wanted to do my best for them every single day.
"The staff are so incredibly talented and our past staff were always so supportive and remained very connected to the school."
Marie added that the 'sense of family' in the school is 'very, very strong and I am very lucky to have been a part of that'.
In the last 14 years, she has been at the helm of the school through some of it's most positive experiences, but also through difficult times.
"Leaving Creggan was difficult as I understood what the school meant to the people of Creggan. I had no pleasure taking the school out of there, but I also understood that the girls deserved a fabulous new school and there wasn't room for that on the Fanad Drive site."
In the last ten years, the school has forged new links with the community in and around the Northland Road.
Marie said she never thought she would have the opportunity to become principal of the school when she joined 34 years ago.
She added the school has been a huge part of her life and she feels 'so blessed'. "I would like to thank all the staff, past and present, all the pupils, their families and especially their parents, who have helped me be better at my job.
"I would also like to thank the Board of Governors who have always been very supportive and challenging, and the Sisters of Mercy who were brave enough to open the school in Creggan 60 years ago."
Marie also paid tribute to the wider Derry community, who she said 'carried me through'. "I have had great support from the wider Derry community, from community and business organisations, and indeed other schools.
"I was carried through the job I did from the support I received from the local community and I will be forever grateful for that."