New all-electric bus fleet launched in Derry
The new all-electric bus fleet has been unveiled in Derry this week, the first of it's kind in Ireland and the UK.
Published 25th May 2023, 14:00 BST

- 3 min read
Updated 26th May 2023, 09:06 BST
A total of 38 Translink buses, both single and double-decker, will be taking to the streets of Derry soon, with the full fleet expected to be in operation by the end of August.
Ian Campbell, Director of Service Operations with Translink said: "We're absolutely delighted to be in Derry today to unveil these two new state-of-the-art electric buses. The key feature of them is that they're zero-emission, which is good for air quality in Derry but also good for the environment because there's no greenhouse gas emissions. We do recognise the global climate crisis so these are the kind of things we need to do, not only in Derry, but across Northern Ireland.
"Derry is a nice size and lends itself well to this kind of technology. We're currently converting Pennyburn Depot into a zero-emission charging hub and we're taking the complete diesel fleet out of Derry. It's a natural choice because we have a nice collaboration with all the organisations in Derry.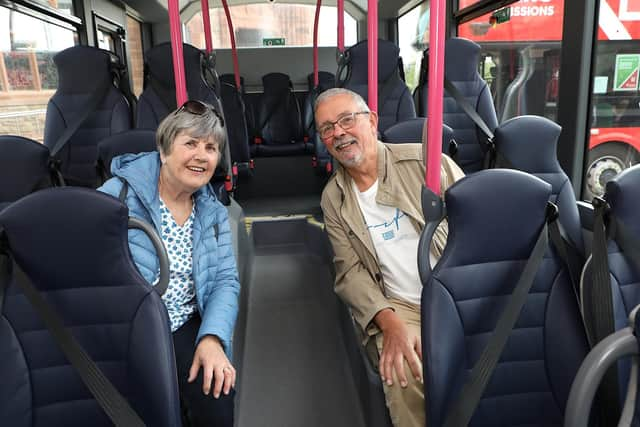 "We also have zero-emission vehicles in Belfast but to do-out the whole fleet in Derry was an opportunity too good to miss.
"The feedback so far has been really positive. I think people like them and they've got really nice features on them such as USB charging, leather seats, wifi and are fully accessible. There's no steps on them and they have the audio-visual 'next stop' announcements, which is also a first for the city."
The new buses will also have contactless ticket payment rolled out shortly after the buses take to the road.
Translink driver Marty Jones, who will be driving some of the new buses said: "The new buses feel good, they're very smooth. They're great for breaking, which means it's easier for the driver. Because they're new, everything on the bus is up-to-date, which is great for our drivers, too."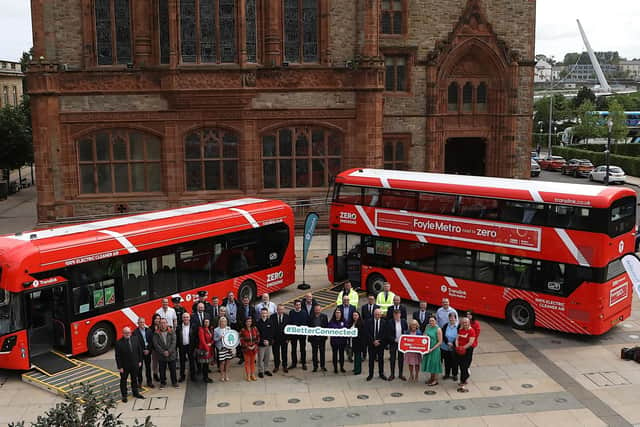 SDLP Leader Colum Eastwood MP said: "This is a historic moment for Derry which will see it become one of the first cities on these islands to operate a fully zero-emission urban bus service. This achievement would not have been possible without the hard work and dedication of former SDLP infrastructure Minister Nichola Mallon who provided the funding needed to supply these buses during her time in government.
"The SDLP is fully committed to Derry and our green future. This investment shows that when we have a government that works for everyone, committed to protecting the planet and driving real change, we can deliver a cleaner, greener, more sustainable future.
"We have been unable to make further progress in our attempts to thwart climate change in Northern Ireland due to the lack of government at Stormont. We are in this position solely because of the DUP. The SDLP has a proven track record in helping deliver steps towards a low carbon future and will continue to fight against the climate emergency we all face."
Gary Middleton, MLA said, "I was delighted to be at the Guildhall to view the new electric buses which will replace the existing Metro Service fleet. There will be 38 new electric buses in total and they are expected to be in operation by late summer.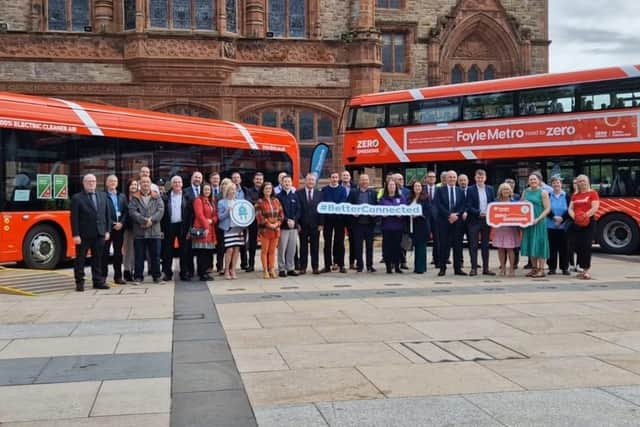 "Tackling climate change should be everyone's concern. This is a transformative project from Translink helping to reduce greenhouse gases and helping to provide a better quality of life for future generations. By replacing vehicles that use petrol and diesel with electric vehicles, Translink can ensure it reduces its impact on the environment. These vehicles will no longer produce greenhouse gases, meaning harmful gases that stay in the atmosphere for many years, causing the planet's temperature to rise will be reduced.
"Carbon neutrality is not something we can achieve alone, and I welcome this initiative from Translink. It is important for each of us to play our role too. No matter how small a change it is, it can all make a difference. This may be switching off all your appliances when they are not in use or taking the bus or the train."
The zero emission Foyle Metro bus fleet is due to come into service later this year as part of Translink's transformational plans to support the decarbonisation of transport in Northern Ireland. For more information on the new buses, visit www.translink.co.uk/FoyleMetroZE.