Tribute to a 'gentle and great man' Sean Friel
We mourn the death of John (Sean) Friel who died peacefully at his home in the Waterside on March 29, aged 85 years.
Friday, 9th April 2021, 3:06 pm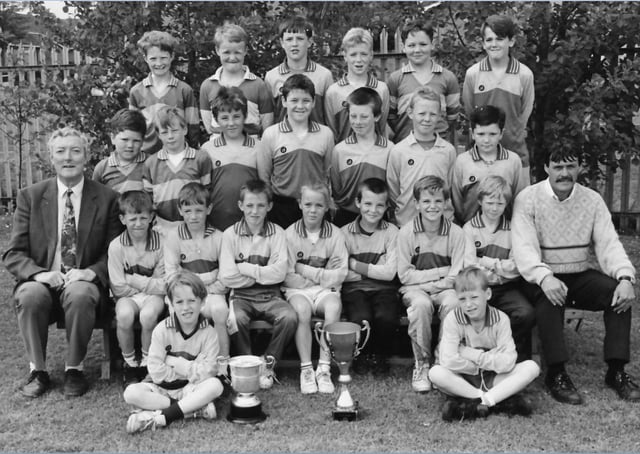 Mr Sean Friel, pictured left, with a colleague and past pupils, is fondly remembered by all who knew him.
Sean was a gentle and great man who, throughout his life, gave generously as a school principal, a church organist and choirmaster, as a radio presenter and writer, a loving husband and father.
He was born in Clooney Terrace in 1935 and he lived most of his life in the Waterside. He attended Chapel Road Boys' School and St Columb's College. He trained to be a teacher in St Joseph's Training College and Queen's University, Belfast.
He returned to teach in Rosemount Primary School and met his late wife, Celine Mullan, at a dance in Borderland. They married in 1962 and had two children Anne and Karen. Sean had a great sense of his family history and roots. He had a great loyalty to family and to the Waterside. He was a prayerful man with a strong faith in God and dedication to people, Church and Parish.
In 1983, Sean moved from Glendermott Primary School in Ardmore where he had been principal for ten years, to become the first principal of the new Lenamore Primary School in Galliagh - now St. Therese's Primary School. With his initial team of 12 teachers, he developed a school that had an ethos of supporting and building up its pupils as well as developing its staff. The school reached out to local parents and involved the local community in its work. Sean loved the children in the schools where he taught.
Former colleagues commented that if an errant pupil was sent to his office, they often got a piece of chocolate or his dessert as opposed to a telling off. He instilled a strong sense of self-belief in everyone that he met, encouraging them to reach further and try new things. Many previous pupils would stop him in Sainsbury's to thank him for the encouragement and opportunities he have given them.
Sean's love of people and of music permeated everything that he did. He taught school and church choirs in Rosemount and St Brecan's schools as well as being organist and choirmaster in St Columb's Church, Waterside for over 30 years. He formed a new church choir there, writing and arranging church music for them. The members, many of whom had been together since the 1970s until his retirement in 2014, were his second family. He was a calm presence who was generous of his time and talents. He loved attending classical concerts and music festivals.
As well as a school principal and church organist, Sean Friel was a local journalist and radio presenter in the early 1980s. He reviewed concerts in Derry for the Derry Journal and the Belfast Telegraph, at a time when more music was coming back to the City. He wrote of productions in the Marian Hall and Magee, of local pantomimes and classical concerts given by the Ulster Orchestra, international string quartets and solo performers such as Barry Douglas.
Sean wrote and presented a series of programmes – The Music Makers - on classical music on BBC Radio Foyle, produced by Maureen Gallagher. He linked some of these programmes to the evening classes that he taught at Magee College. He also contributed to programmes on classical and church music on Radio Ulster, working with the Reverend Bert Tosh.
He loved reading books and poetry; he was an adventurous cook and an industrious gardener. He loved travelling, driving around France and Italy with the family tent during his summer holidays, visiting places of historical importance. He was a man who was interested in everything and he enjoyed sharing those interests.
Sean was loved by his family and friends and will be missed greatly.
'We are the music makers, And we are the dreamers of dreams…' The Music Makers - Arthur O'Shaughnessy