Border Communities Against Brexit says open border objective has been realised but urges 'never, ever forget we voted remain'
The Border Communities Against Brexit campaign group says it has secured its core objective of ensuring an open border on the island of Ireland.
Thursday, 31st December 2020, 11:17 am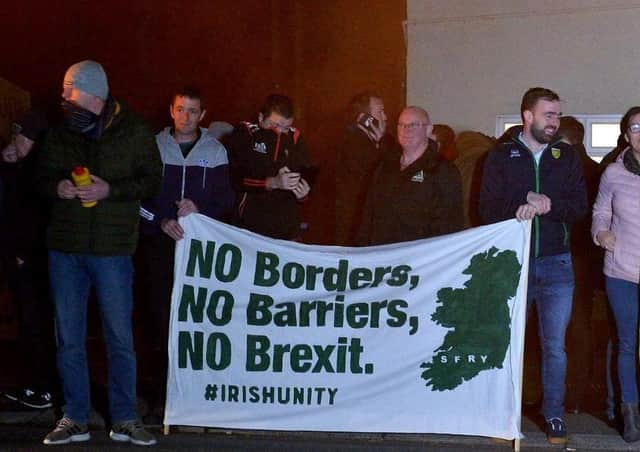 A Border Communities Against Brexit protest at Bridgend.
"We now have a Brexit Deal, but more importantly we now have the Irish Protocol. This Protocol is to operate in all circumstances, to ensure that there would never, ever be a physical border on our island ever again.
"This had been the core task that we in Border Communities undertook.
"We are ordinary people from all walks of life who came together to campaign to highlight to those people living in border communities about the massive risk to our futures," the group stated as the United Kingdom prepares for a breach with the European Union when the Brexit transition period ends tonight.
The lobby group said if it hadn't been for grass roots efforts 'we most definitely would have Border Posts being constructed from Dundalk to Derry' under the Trade and Cooperation Agreement and European Union (Future Relationship) Act.
It said this would have jeopardised peace in Ireland as it would have required the establishment of border infrastructure that could have been targeted for attack.
"Apart from the very significant economic damage this would have caused, the huge disruption to those of us living in border communities; our communities would have been forced to navigate through a handful of open border routes, it would without any doubt have brought about the substantial risk of violence towards new border infrastructure.
"This would absolutely have had very serious consequences for the most precious thing on this Island, our peace process.
"Peace under the architecture of the Good Friday Agreement has been the solid foundation of our society for the past 20 years, it has brought so much economic and societal benefits, without it our Island would most definitely have taken a substantial backward step," said BCAB.
Although the north is no longer in the European Union its alignment with EU regulations on goods and customs will prevent a physical border on the land, the group acknowledged.
"But for those of us who would wish to Remain to be full members of the EU, this is very very difficult to accept. We have lost much, such as, our rights taken away, loss of representation by MEPs, loss of many Structural Funds, with other things mitigated by the Irish Government which is very welcome. But never, ever forget that we voted remain," said the campaign.