Keir Starmer grilled by politics students at St. Columb's
Keir Starmer faced a grilling from students during a visit to St. Columb's College on Friday.
Watch more of our videos on Shots! 
and live on Freeview channel 276
Visit Shots! now
The man who would be Prime Minister addressed St. Columb's politics students and students from the Foyle Learning Community as guest of the John and Pat Hume Foundation.
The British Labour Party leader was asked by one student what steps he would take to 'achieve justice for the victims of atrocities committed by British Armed forces in the north of Ireland'.
Referring to the period he spent advising the NI Policing Board in the 2000s, he replied: "In the five years I worked here with the PSNI I met a lot of people, a lot of families who had lost somebody in their family. This will be deeply familiar to many, many people in this room.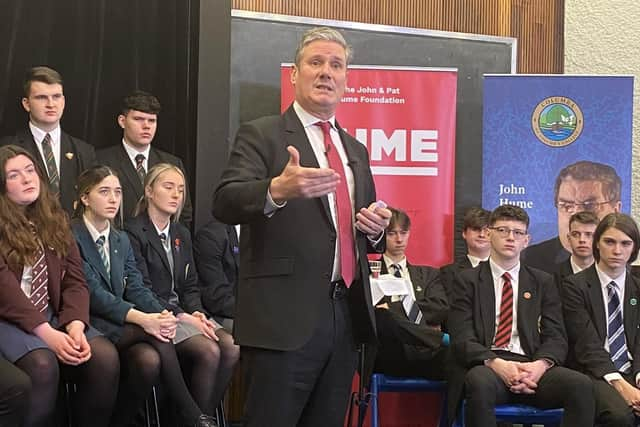 "I instinctively knew from the very first meeting I had that I needed to take my leave from those who had suffered such great loss and to understand the need for justice and closure and answers to some of the very difficult questions."
He reiterated his opposition to the NI Troubles (Legacy and Reconciliation) Bill.
"I am very against the government's proposals in relation to the investigation and prosecution of these cases which is why we said if we come to power we will repeal that."
Another student reminded him of an interview in July 2021 when pressed on his position on a border poll he stated: "I believe in the UK and I will make the case for a UK."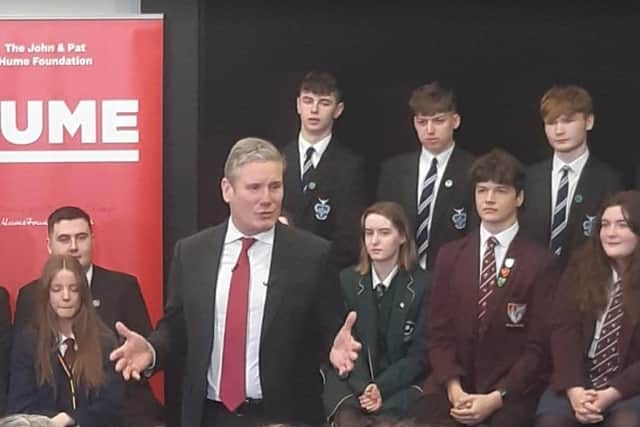 The pupil asked: "Now in 2023 with a Sinn Féin First Minister 25 years after the Good Friday Agreement how would your party approach a call for a border poll?"
He replied: "I don't think we are anywhere near a border poll I have to say but in answer to your question: in accordance with the GFA, which was clear about the way in which the government would operate in those circumstances."
The GFA was, he stated, one of the 'proudest achievements of the Labour government' and said he hoped that if a new Labour administration is returned next year that he will restore the UK government to being an 'honest broker'.
Asked how he would seek to bring more jobs into Derry, he responded: "We've got a mission which is to grow the economy, to lift living standards and make sure money is coming in.
"One of the mistakes governments make, one of the mistakes sometimes Labour governments make, is that it is only government money that makes the difference. Government money is needed, we need absolute determination, but we need to trigger private investment to come up along side us."
He was asked to respond to the oft-aired criticism that Labour has shifted to the right.
"How would you respond to the critique that the Labour Party has moved too far and abandoned its traditional left wing views?" asked one student.
He replied: "I totally reject that. I tell you, for why, I grew up in a working class family.
"My dad was a toolmaker who worked in a factory, my mum was a nurse and I know what matters for working-class families and that is to have a government that completely understands their aspirations, their desires, to have a better future for their children."