Shirt factory plaques and new workers' survey to be launched before people hang out red flags for May Day celebrations
This weekend plaques will be unveiled in memory of Derry's shirt factory workers of the past while a new survey will be launched to canvass the workers of today about the main issues affecting them in their working lives.
Published 26th Apr 2021, 12:50 BST

- 2 min read
Updated 26th Apr 2021, 13:18 BST
On May Day - this Saturday - people will be encouraged to hang out a red flag in memory of local workers in the culmination of a week long programme of events during Workers' Rights and Social Justice Week 2021.
Niall McCarroll, chairperson of Derry Trades Union Council, which has organised the celebrations, said: "DTUC will be launching our local workers' survey on Friday, April 30 at 7pm. The survey gives every worker across the city and district an opportunity to tell us how they are being valued at work and what they see as the key issues of importance for them and their work colleagues.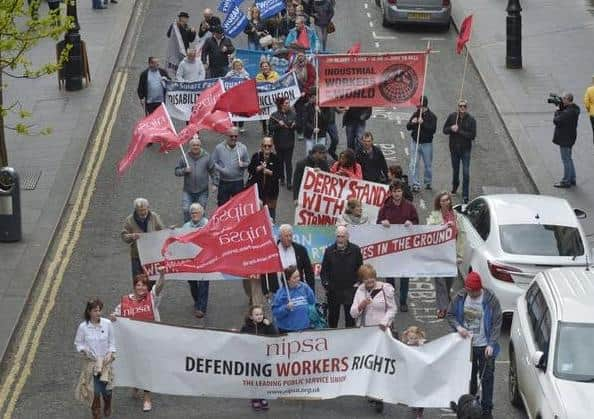 "We do this in solidarity with each other as we continue to shape a collective declaration which will style our thoughts and actions in a way in which we begin to awaken a new mood, one which delivers equality, justice, tranquillity and spiritual peace."
Mr. McCarroll claimed that 10 per cent of workers in the North earn below £8041 a year. He described the situation as unacceptable.
"The conditions need to be created where people work less, enjoy life in its fullest terms and begin to turn away from lives which have increasing numbers of people working two jobs with poverty, hunger and deprivation on the rise.
"Currently we have 23.9% of children in the South and 21% in the North being at risk of poverty or social exclusion. This reflects a broken system, one which is not delivering for everyone. As we mobilise towards May Day DTUC encourage support for all social justice campaigns which by their design aim to stand up for the marginalised, one such campaign being the UNISON led Free School Meals Campaign," he said.
The leading trade unionist said that a highlight of this year's May Day celebrations will be the installation of plaques at several of Derry's former shirt factories.
"DTUC are privileged to be involved in remembering the heroic legacy of the factory workers of Derry and the North West. These workers were the backbone of the city, keeping it alive, stitching strength and hope into the fabric of the city, whilst uniting and inspiring future generations.
"As a collective of trade unions DTUC are honoured to play our part in recognising these workers through the unveiling of several plaques across the city during Workers' Rights and Social Justice Week.
"In recognition of local workers Derry Trades Union Council are calling on people to hang out a red flag on May Day as we once again at this time of the year send out a message of defiance against the establishment."