Celtic's Shane Duffy 'should be appreciated' - says Stephen Kenny
IRELAND manager, Stephen Kenny reckons defender Shane Duffy should be appreciated and insists he has faith in the out-of-form Derry man.
Monday, 9th November 2020, 10:41 am
Updated
Monday, 9th November 2020, 10:46 am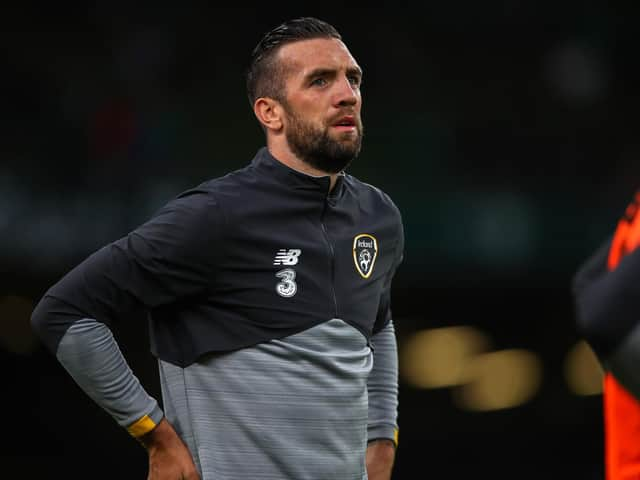 Stephen Kenny insists he has full belief in defender Shane Duffy.
The Galliagh native, on loan at Celtic from Brighton, has been criticised for recent performances for the Glasgow outfit and for some high profile blunders since his move to Parkhead.
He came off the bench late on in Celtic's 4-1 away win against Motherwell on Sunday and joined up with his Ireland teammates for the triple-header against England, Wales and Bulgaria.
Despite his dip in form, Kenny, who plans on having a chat with the player when he meets up with the team in London, insists he won't hesitate to play him in Thursday's friendly international against the English at Wembley.
The Dubliner pointed out Duffy has played more minutes than any other Ireland player this season.
"I have a list that my fitness coach and analyst compiled in relation to the amount of minutes and games our players have played.
"Shane Duffy has played, from starting the first game for me in Bulgaria, he's played 18 games in that period," said the Ireland boss.
"The next player closest to him up to yesterday was Matt Doherty with 14. Some players have played none or one and some players have played three or five and some players have played maybe nine, 10 or 11.
"He's actually played 18 games between club and country during that period.
"So he had at least four more than any other player. That was in contrast to playing one in the previous nine months,
"So he went from an absolute famine to a feast. One game in nine months which was against Liverpool for Brighton and that was the only game he played apart from the international games in that window but one club game to then go and play 18 games in such a short proximity.
"He didn't play today (for Celtic v Motherwell). He came on at the end - that's fine. Maybe he needed a bit of a rest. We'll see how he is when he comes in. I'll chat to him and see how he is. But if you ask me 'have I got faith in Shane? I definitely do! I believe in him.
"I think his performances for Ireland overall with three different managers have overall been to a very high standard and we should appreciate him."
It's the second time in the space of a week Kenny has jumped to the defence of Duffy, previously claiming the player is a 'tough character'.
"Shane is a tough character. There is a saying in Derry: 'Take your oil'. Sometimes you have to accept criticism and show your qualities.
"The criticism isn't even warranted. I don't agree with it. He made a mistake against Aberdeen but his performances were quite good when he went there first.
"It was a tough run for him, with the three games for us and the travelling."
Ireland face England at Wem