Revealed! The key role Callum McGregor played in Scotland's historic Serbian triumph
Scotland were never going to do it the easy way, were they?
Friday, 13th November 2020, 4:44 pm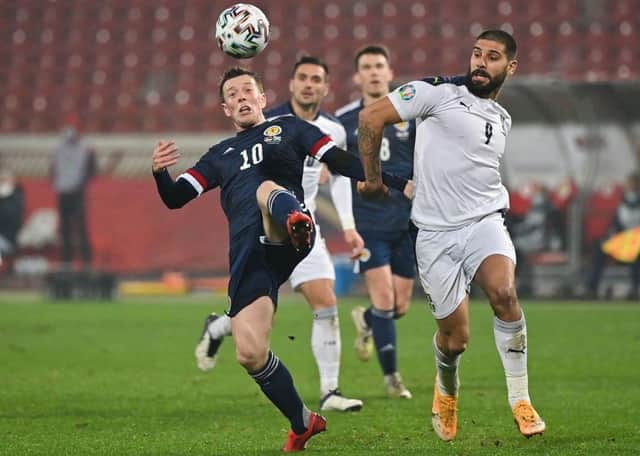 Callum McGregor (Photo by ANDREJ ISAKOVIC / AFP) (Photo by ANDREJ ISAKOVIC/AFP via Getty Images)
After 22 years of disappointment, Steve Clarke's men had to rely on a penalty shootout to book their place at next summer's European Championship – not that the manner in which they secured their spot particularly matters, of course.
Sure, nerves may have been frayed and fingernails thoroughly chewed, but when all is said and done, Scotland will be at a major tournament for the first time since 1998, and how they got there is somewhat immaterial.
There were, however, some obvious acts of heroism that really caught the eye in Belgrade on Thursday night.
David Marshall's decisive save in the shootout will live long in the memory for a generation of Scottish fans, while Ryan Christie's goal – and the teary interview he gave after the match – has rightfully made him a national darling.
But there were other, less noted performances that still deserve an immense amount of credit.
Lyndon Dykes, for example, worked tirelessly up top, and his presence was a constant nuisance prior to him being taken off.
Likewise, Declan Gallagher put in a colossal display at the heart of defence, and he did a stellar job of silencing the ever-problematic Aleksandar Mitrovic.
In midfield, however, it was Callum McGregor who really turned in a standout shift.
The Celtic man was everywhere in the centre of the park, and his energetic showing was a key factor in Scotland's relatively comfortable display up until the point that they conceded a late Serbian equaliser.
Fans of the Hoops are used to seeing this kind of masterful midfield performance from the 27-year-old, but for him to replicate his shining club form in the most important match that his country has had in over two decades is testament to the irrepressible quality that he possesses.
Alongside Ryan Jack in the engine room, McGregor got through an admirable amount of work, and barely put a foot wrong in the process.
His pass completion rate of 93% was exemplary, and over the course of his 123 minute outing, he misplaced just four balls.
The range of his distribution was good too, and McGregor managed to complete 100% of his long passes against Serbia.
Mostly though, this was an understated, almost simplistic, display from the Parkhead man. There were plenty of short, sharp interchanges, plenty of times were he received possession, turned out, and relieved pressure on his side by switching the emphasis of a passage of play.
But what really stood out was the impressive amount of defensive work that McGregor chipped in with.
The midfielder made 17 interceptions and 17 ball recoveries against Serbia.
To contextualise those figures, his season average in each has been 4.97 and 7.25 respectively.
Again, just to reemphasise how influential McGregor was on Thursday, he made nine ball recoveries in the Serbian half alone.
If – and it's a big if – there was a downside to the midfielder's display, it's that his belt and braces approach to winning back possession arguably came at the cost of the attacking traits that usually characterise his game.
McGregor failed to register a single progressive run in over 120 minutes of action, and he was also limited to just one successful dribble and one wayward shot.
But focusing in on those underwhelming figures would be extremely harsh given the solidity of his display when it came to defending and distributing.
In a lot of ways, this wasn't a trademark McGregor showing – most of the threat that he usually poses was nullified, and the size of the task facing he and his teammates required him to dig deeper than he may ordinarily be expected to on domestic duty.
Nonetheless, the Celtic man was able to adapt for the good of the side, and his measured, assured performance when it mattered most was a reminder to a watching nation as to what a class act he is.