Derry City chairman issues lifetime ban warning to fans deemed 'beyond reasonable appeal'
DERRY City Chairman Mr Philip O'Doherty has warned any fans using flares at the Ryan McBride Brandywell will be ejected from the stadium and banned for life from attending fixtures.
Published 22nd Feb 2023, 16:50 BST

- 2 min read
The club has previously appealed to fans to stop using flares and threatened bans for those using pyrotechnics or breaching spectator conduct rules.
However, after repeated infringements which has cost the club in excess of £15,000 in disciplinary fines paid to the FAI and UEFA, Mr O'Doherty has issued a statement declaring the Brandywell outfit will clamp down on supporters who they deem to be 'beyond reasonable appeal'.
Ahead of the first home league match of the season on Friday night when City host Cork on Foyleside, the club warned they will be conducting 'robust searches' on entry to the ground.
"The season has begun with successfully staging and winning the President's Cup," read a statement from the Chairman. "It is unfortunate therefore that I have to address the actions of a small number of supporters at the event who lit flares and a flag.
"The small group who persists in this behaviour congregate in the same section of the stadium. In the past, the club has appealed to this group to stop this behaviour, pointing out the financial sanctions and the health and safety issues that arise.
"The club has decided that this small group is beyond reasonable appeal. For a series of home matches therefore, stewards will occupy some of the seats in the part of the stadium where this behaviour occurs.
"Any person who is detected with flares or who lights flares will be removed from the stadium and will be banned for life from attending future matches."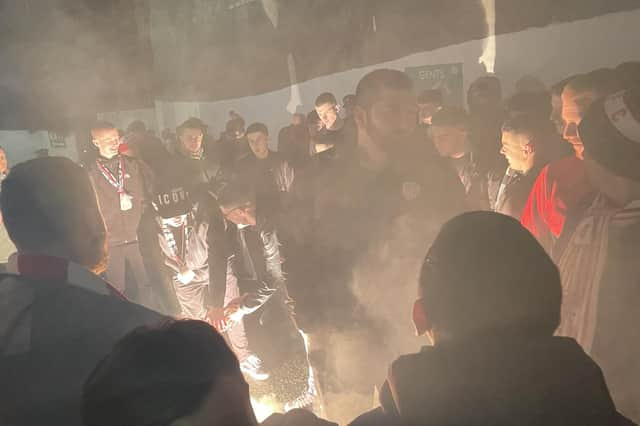 The club's Commercial Manager, Robert Martin, has also pleaded with supporters not to bring flares, smoke bombs or any other pyrotechnics into the stadium.
Mr. Martin warned that the club's security partner, Pulse, will be carrying out searches before supporters enter the ground.
"We've had an issue with this since last season and our security partners, Pulse, have been working hard to try and stop it," he insisted.
"We've been appealing to people but it's very, very difficult to stop everyone getting in with flares, though we will be carrying out robust searches this season."