Derry City defender Mark Connolly hails Ruaidhri Higgins' 'strength' following death of his brother
MARK Connolly admits the tragic death of Ruaidhri Higgins' brother has 'hurt' the entire squad who have vowed to make the Derry City manager 'proud' with their performances on the pitch.
Published 2nd Mar 2023, 19:11 GMT

- 2 min read
The City defender hailed the professionalism and strength of the City boss who has conducted himself admirably in the wake of such a heart-breaking loss as he distracted himself with football and the day-to-day running of the Brandywell club in recent weeks.
Higgins travelled to Sweden with his family this week to bring the remains of his late older brother, Kevin, back home. And while he's expected to be in the dugout in Tallaght Stadium when Derry take on Shamrock Rovers, he will understandably take a step back from other matchday duties.
For Connolly and his teammates, their manager and the entire Higgins family will be foremost in their thoughts this weekend as funeral arrangements are finalised.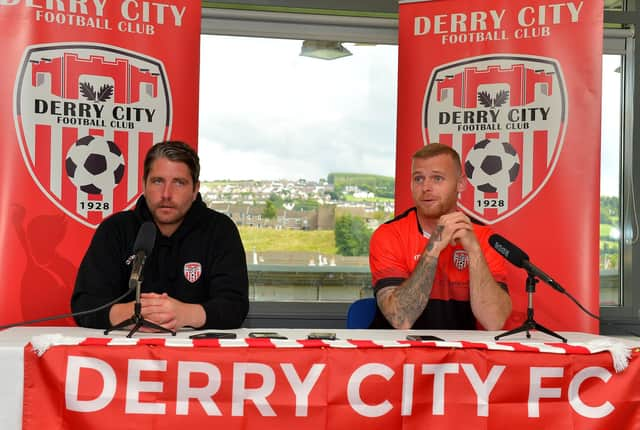 "It's extremely tough losing anyone, especially your brother," reflected the Monaghan native who described Higgins as a 'family man through and through'.
"People sometimes can forget what he's going through as the man comes in every day or when he can as obviously it's such a tough time for him and his family. But the way the man is, he comes in and sometimes you would nearly forget what's happened because of the way he conducts himself and the way he's been.
"Listen, it hurts us all. I can only imagine how tough it's been for the whole Higgins family but it says a lot about the boys in the dressing room because when we heard the news, it hit us all because it's somebody who means a lot to you and the manager, the man you look up to, has had such a trauma in his family life.
"The boys came together and we still have the manager and his family in the back of our minds. In every game we go into we have that bit of a springboard to think, 'Right, it's not just for us but for the manager and for all of Derry'.
"He's football-mad but when family comes into it, he's a family man through and through."
The former Wolves man knows the only thing the players can do for the manager is focus on their football and hopefully produce a result in Tallaght which will offer a brief reprieve.
"All we can do is focus on our football and make sure we make him proud and his family proud.
"When I lost my father, my father's funeral was on the Sunday and I was back in training on the Tuesday. For me it actually didn't hit home for quite a while after it. You're going on the emotion. You're rolling on and you think this (football) will take my mind off it.
"Sometimes you don't realise what people are going through but the way he's held himself, you look up to him because this is a man that's had a difficult time and look at how strong he's keeping.
"We've all got his back. We're all thinking about him and all the Higgins family. It will be a tough few days for him but we'll all be there for him. Whether he's there or not, we'll be going to put on a performance for him."