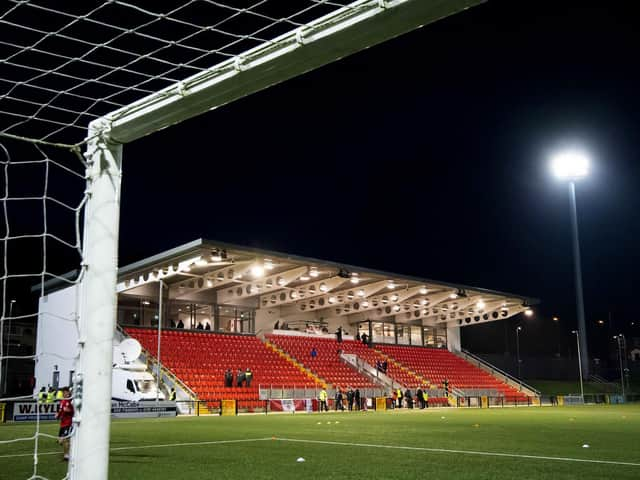 Derry City FC's traditional home, the Ryan McBride Brandywell Stadium.
And while the exciting project is currently in its infancy, the new training facilities will form an integral part of the club's proposed five year plan.
Speaking exclusively to the 'Journal' this week, Mr O'Doherty said he was 'excited and confident' the plan for a new multi-functional training base will come to fruition should grant funding be secured.
The club, which remains the anchor tenant of the Derry City & Strabane District Council owned Ryan McBride Brandywell Stadium, hopes to formulate a viable business plan over the coming weeks.
BIG PLANS . . . Derry City Chairman, Philip O'Doherty and manager, Declan Devine.
Indeed, after an in-depth analysis of the club's current situation, Mr. O'Doherty's vision is not only to transform the fortunes of the first team but also invest in the future of the club's youth academy - operating at its own base - which will include the provision of several grass and 4G pitches, changing facilities and a state-of-the art gymnasium.
The City Chairman has already fired the first shot of the starting pistol on the project by hosting a number of meetings at board level and said his next step would be to approach the local council in an effort to discover the details of future projects earmarked for sport and leisure facilities as part of the £250 million 'City Deal' which was confirmed last week.
Other avenues for funding include the Sub Regional Stadia programme and potential cross border grants which Mr O'Doherty plans to investigate further.
"We have been paying rent at the Brandywell to use the stadium and I think we have a great facility now in place, hopefully we will continue that progression with the extension to the stand that has been talked about for the past few years," revealed Mr. Doherty.
"However, the key for us all, as a local football club, is that we need our own training base if we are to accommodate our youth academy.
"I believe that such a facility would go down well with our supporters because it would be an investment in the future. We want to put something up that's going to take us through the next 30 years," he claimed.
"We believe we need to invest money in the infrastructure for our youth set-up to continue to thrive so we're looking to see if we can get our own facility for training and development issues. Our office staff and team manager, Declan Devine, are continuously getting moved about from training facility to training facility and that's not an ideal situation.
"The youth team set-up is the same. They don't have a place they can call 'home' so that's going to be the focus over the next few weeks," continued the chairman.
"We had meetings on Saturday afternoon last and we are looking to get a business case put together before investigating what grant funding there may be available to us.
"Obviously, I realise that times are tough at the moment, but we feel we must get a good plan in place regardless of the times we are currently experiencing."
Mr. O'Doherty made it clear the Brandywell club wishes to maintain its excellent relationship with the city council and, indeed, hopes to work alongside the local authority on the project.
"We want to align with what Derry City & Strabane District Council are planning. We hope to seek a meeting very shortly to find out what exactly the details are in the new City Deal.
"We have read the press release but we're anxious to discover what exactly the strategy for soccer is within the council area. We want to do something that ties in with the plan, rather than compete with it. We have enjoyed a very good relationship with the council and we want that to continue."
The location of the club's proposed new training base is something which has already been discussed at board level and a shortlist of potential locations has already been drawn up.
Possible sites for the construction of the new training base have been identified in the Waterside, Buncrana Road and Letterkenny Road areas and those options were discussed during tentative talks last weekend.
"That's a question that went around the room; 'Where would the ideal location be?'" added Mr. O'Doherty.
"There were all sorts of ideas. The Waterside was mentioned, the Buncrana Road was mentioned, the Brandywell/Letterkenny Road area was also mentioned," he confirmed.
"You could make arguments for all those locations but sometimes it is simply about land availability and, of course, the cost of that land.
"I think some of the pots of money, in terms of funding, will be aimed at cross border and some of the pots of money will be aimed at community involvement. It's going to be a complicated equation and we're probably going to have to draw up a shortlist of possible locations.
"We had a kick-off meeting a few weeks ago but the first discussion about this plan was on Saturday past so it's very early days."
It's understood the club's new home will include training facilities for the first team and all academy football training operations. These facilities will be provided on one site in a new training campus.
The ambitious new plan is to ensure the city boasts a successful and sustainable football club, investing in youth recruitment and development and Mr O'Doherty believes a top class facility is a key component in that regard.
"It's a plan to involve everybody at the club," he insisted. "We're going to need several pitches in that facility, one is never going to be enough.
"That's our thinking at the minute and I know the guys are talking about a grass facility and a 4G facility and then possibly several sets of changing rooms and a gym. That's our basic thinking at the moment.
"There will be separate budgets for the senior team and for the youth team project but we definitely need some place we can call home.
"All those involved at this stage have been asked to go out and look at the models which exist at larger clubs so that we can learn what works and what doesn't work. So much of this is obviously about facilities and we want the best facilities. It will attract younger players from the area because we've lost younger players who haven't come to Derry City over the years.
"That's the one thing young people want. They want good, qualified coaches but they also want proper facilities. It's all about us showing them respect.
"As a football club we have to show respect to all those young players and their parents and show we want the best facilities for them rather than just moving from pillar to post all the time.
"That proposal is certainly on the horizon and it will be a separate pot of money that is set aside for that. There's no long term future without having a bigger youth involvement because we can't just keep writing cheques.
"I'm here 10 years now and, hopefully, I'll be here for another 10 years but I would like to be able to have it where we boast a model which doesn't depend on any one person because it is simply too risky."