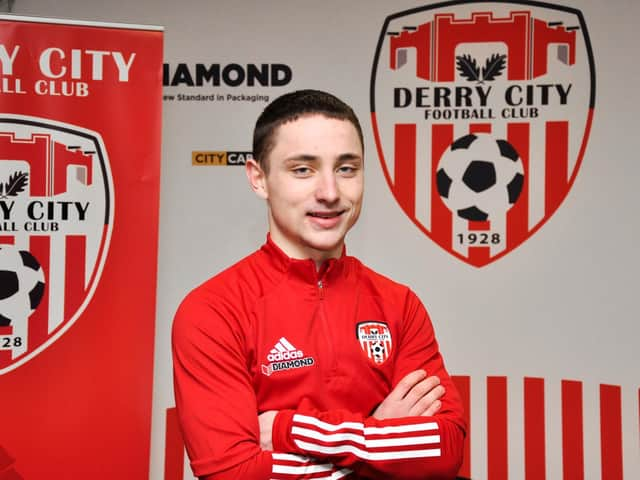 Derry City's Joe Hodge.
The teenager, who is back in Manchester receiving treatment, will see a specialist in the coming weeks before, hopefully, returning to Derry.
"Joe is doing alright," revealed Devine, "He went back to Manchester a week ago for treatment. He had an issue with his back when he got here. Michael Hegarty (Derry City physio) had a good look at him and saw there was something just not right in his movements.
"We got him scanned and it showed up that he had a little issue at the base of his back. We contacted Man City and they were aware that there was an issue so he has gone back over there and is getting treatment with them."
The Derry boss said it made sense for the Ireland U19 international to return home to get daily treatment at the Premier League leaders.
"There's no point in the kid sitting here and not being able to train, just sitting around a house. He's around his own family in Manchester at the minute and with Manchester City on a daily basis getting treatment.
"He'll see a specialist in two weeks and hopefully then they'll give him a green light to start a bit of light training.
"Look, as much as we are gutted the boy is not here, we have to understand, he's a 18-year-old lad with the world at his feet and a huge future but we are hopeful we can him back here in the next few weeks."
Devine said he is excited for the season ahead and feels this year's squad has a good energy and togetherness.
"Since the day we came back in, the application and the appetite and togetherness of the group has been really positive," he added.
"It's all about building towards the Longford game. We have taken really difficult games in pre-season, playing two North West derbies against Finn Harps, away to Bohemians on a tight pitch, Bray Wanderers away was a really good game and we have Shamrock Rovers this weekend, that will be a good test as well.
"All the games have been good tests for the boys. We have taken more games away from home this pre-season because our first game at Longford is going to be on grass.
"We are under no illusions, it's going to be difficult in Longford. They have spent the last five or six years trying to get back into the Premier Division and aren't going to come in on the first game and do anything other than trying to win the game.
"They are going to be every bit as hungry as we are. It's a very difficult game to start with and I have no doubt that we will need to be right on top of it to make sure that we go down there and put in a good performance."