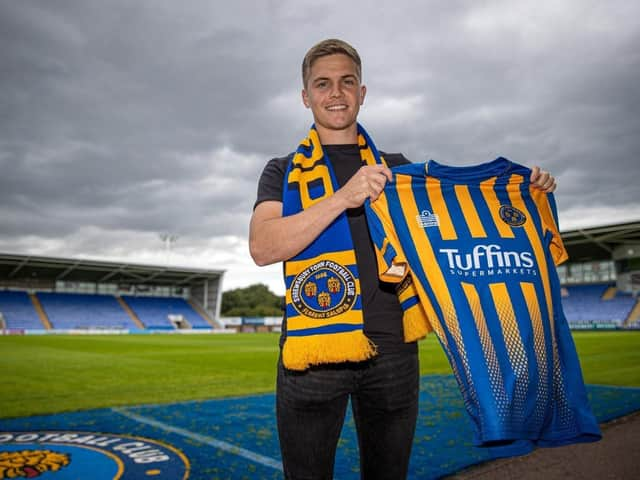 Shrewsbury Town's Josh Daniels is open to a return to the Northern Ireland international set-up should Ian Baraclough be interested.
The Derry man, who has impressed for League One outfit Shrewsbury Town since making a summer move from Glenavon, is understood to be on Baraclough's radar as he looks to strengthen his squad for the FIFA World Cup qualifiers next March.
Former Derry City winger, Daniels represented the IFA at various underage groups, right through to the U19s but opted to switch his allegiance to the Republic of Ireland in 2017 in the hope of progressing to the U21 ranks under Noel King.
He played alongside his Derry City teammates at the time, Ronan Curtis and Ben Doherty for the Republic's U21 home-based squad against an amateur select but failed to make the breakthrough.
Baraclough admitted he's monitoring various players who have yet to be capped at senior international level and who would be open to a return to their initial association.
And 24 year-old Daniels has welcomed the possibility, admitting he would find it difficult to ignore any interest from Baraclough as he looks for international recognition.
"Any international recognition is a complete bonus to me," said Daniels. "I'm not thinking too much about it at the minute but I'd like to see what materialises from it.
"If it makes me a better footballer in the long run then that's all that matters. It would be unbelievable to get international recognition.
"Obviously I have mates like Aaron McEneff and boys like Ronan Curtis who have had call ups and caps for Ireland recently and you're looking at it thinking, 'if I'm doing well at club level then I would love to get an international call-up'.
"For me it was always further down the line before I would have to make decisions but this is the next step in my career.
"Any international recognition would be brilliant and if someone is showing an interest in you it's hard to ignore it."
Explaining his decision to switch from the north to the south three years ago, Daniels explained he felt it was his best shot at playing international football at the time, describing it as a 'risk worth taking'.
"That was my last chance to play underage internationals which would have led to something. I got that lifeline and thought, 'if this is my last chance to play international games on the back of this, then why not?.
"For me it was just a chance to progress. It was never anything stupid like political reasons because I represented Northern Ireland through the age groups.
"It was always about it being a stepping stone and in this case it was nearly the last attempt to get international recognition.
"I played in a home based squad with Ronan Curtis and Ben Doherty and the only one that got into the U21 team was Curtis and that's when his career kick-started.
"I could've had the same outcome so it was a risk worth taking. That was done in 2017 and I've never received word that I was eligible."
The former Top of the Hill Celtic youth has 'crossed paths' with Baraclough before while playing in the League of Ireland and Irish League and he would love the chance to develop his game under the Northern Ireland supremo.
"Even the fact Northern Ireland are interested, they could've seen a couple of games or had scouts at games. There's a lot of Irish players in League One, both north and south.
"It's interesting and hopefully that's the next step in my career.
"I have links with Baraclough in that my first senior goal against Finn Harps for Derry, Baraclough was commentating and watched the game. We've crossed paths a couple of times.
"Playing in the Irish League he was obviously keeping tabs when bringing young boys through for the U21s.
"Just before I moved to Shrewsbury he did a Zoom call with Gary Hamilton and the Glenavon players and I was one of the players who tuned in to listen around the time he got the Northern Ireland job.
"You want to learn from managers like that. He's proved he can bring young players through and develop them.
"So it's an interesting one and I'm definitely open to it," he declared.