Brilliant Derry hurlers heading to Croke Park for Christy Ring Cup final as Mayo brushed aside in Owenbeg
Christy Ring Cup, Qualifying Group
Published 20th May 2023, 15:33 BST

- 4 min read
Updated 20th May 2023, 16:01 BST
Derry breezed into a Christy Ring Cup final meeting with Meath as Mayo were brushed aside in a one sided final group encounter in Owenbeg on Saturday.
Johnny McGarvey's men were the better side throughout but it took until the later stages of the opening half before their domination began to tell on the scoreboard. The Oak Leafers' class told in a training session of a second half during which to only question concerned the margin of home victory.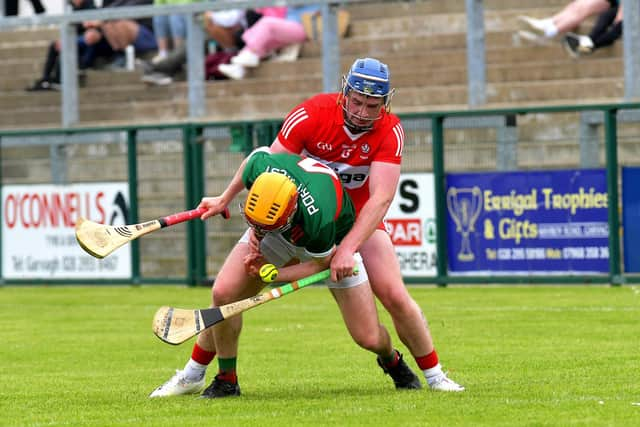 After last week's dramatic victory in Ruislip, this was the second week in succession that Derry have hit 30 points with interestingly only four of that tally coming from frees against Mayo.
Paul Cleary, Richie Mullan and Corey O'Reilly were probably the pick of the performances in red and white but the likes of Cormac O'Doherty, John Mullan and every Derry player wasn't far behind.
With Meath defeating Sligo, Derry will take now on the Royal County on Saturday, June 3rd in Croke Park. That will be a step up from an out of sorts Mayo but on this form Derry can fancy their chances.
The Oak Leafers went into the game knowing victory would secure their spot in the championship final and started like they wanted to waste no time booking their spot in headquarters as they cruised into a four point lead after only five minutes.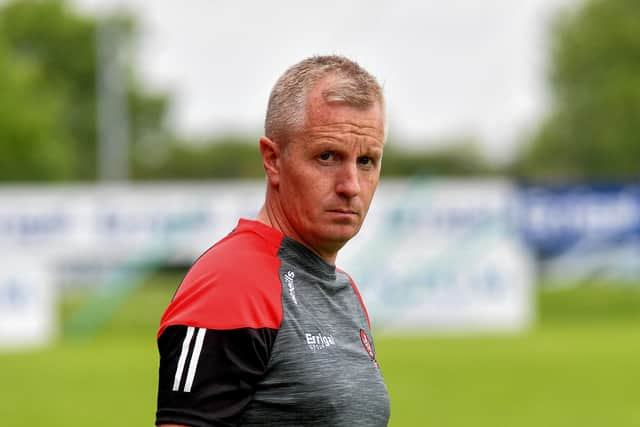 With sweeper Richie Mullan controlling matters inside the Oak Leaf half, it provided the likes of O'Doherty and Meehaul McGrath plenty of possession to build attacks from, but it took until the closing stages of the half for Derry's first half dominance to be reflected on the scoreboard.
In those opening 45 minutes Derry had over 40 possessions to Mayo's 28 but Derry still only led 0-9 to 0-6 at the 27 minute mark thanks to an improved Mayo display and some wayward Oak Leaf shooting.
Cleary was the Derry star in those first 35 minutes, scoring 0-4 from play and he was among the quartet who gave Derry that early lead as John Mullan, O'Doherty and a brilliant Darragh McGilligan score had Derry three up before the Ballinascreen man pointed.
Mayo were second best at that point but credit to the Connacht men, they settled to bring the score back to 0-6 to 0-3 by the 16th minute as Joseph McManus opened their account with a free on six minutes. That was added to by Fergal Boland and another McManus free in response to Cleary's second and a lovely Sean Kelly effort.
The score of the half came from Derry when Sean Cassidy found Eamon Conway who then produced an equally brilliant pass of his own to pick out Mullan and the Kevin Lynch's man applied the appropriate finish to a superb team move.
A huge Corey O'Reilly point stretched the home lead again Mayo before answered once more, scoring two points from Adrian Philips and Eoin Delaney. When Conway and McManus swapped points for 0-9 to 0-6 it looked like Derry's dominance with the ball was going to count for nothing.
That changed in the closing eight minutes of the half as Derry hit four unanswered points but they also had a lucky escape when Mayo's Daniel Hill flashed a decent goal chance inches wide from a high centre.
Off the hook, Cormac O'Doherty, Cleary (2) and Mullan finally put some daylight on the scoreboard to give McGarvey's men a 0-13 to 0-6 interval lead but it perhaps says something about Mayo's attitude on a day they had nothing to play for that, with the score at 0-11 to 0-6 and Mayo having a tap over free, midfielder Cormac Philips elected to go for goal and saw his shot blocked.
Whatever was said at the break by the home management, it had the desired effect as the home side emerged to outscore Mayo 0-6 to 0-1 in the opening 10 minutes of the second period and take the game away from the visitors.
And not unusually, when Derry needed settling Cormac O'Doherty stepped forward. The Slaughtneil man hit the half's opening three points and four of Derry's first six, Conway and McGilligan the other Oak Leaf scorers as Derry built a 0-19 to 0-08 lead.
From there it was only about how many Derry would win by as O'Doherty and Cleary embarked on their own 'top scorer contest', O'Doherty eventually winning out with his 0-9 to Cleary's 0-7, although the 'Screen player's tally came exclusively from play.
Mayo's persistence paid off with a late Fergal Bolan goal but it was never going to change the final destination of a match long over as a conest. Derry are going to Croke Park ands on this form, they're well capable of what would be a historic championship victory. Roll on June 3rd!
Derry scorers: Cormac O'Doherty (0-9, 4f), Paul Cleary (0-7), Corey O'Reilly (0-5), John Mullan (0-3), Darragh McGilligan (0-1), Sean Kelly (0-1), Eamon Conway (0-2), Padhraig Nelis (0-1)
Mayo scorers: Fergal Boland (1-2), Joseph McManus (0-5, 4f), Eoin Delaney (0-2), Adrian Philips (0-1), John Heraty (0-1),
Derry: Oisin O'Doherty, Sean Francis Quinn, Mark Craig, Paddy Kelly, Sean Cassidy, Richie Mullan, James Friel, Cormac O'Doherty, Meehaul McGrath, Eamon Conway, Corey O'Reilly, Darragh McGilligan, Sean Kelly, John Mullan, Paul Cleary. (Subs) Eoghan Cassidy for E Conway, 54mins; Padhraig Nelis for S Kelly, 59mins; Cathal Quinn for S Cassidy, 61mins; Aimon Quinn for M Craig, 64mins; James McCloskey for D McGilligan (inj), 65mins;
Yellow Cards: J Friel, 34mins;
Mayo: Bobby Douglas, James Lyons, David Kenny, Conor Murray, Mark Philips, Gerard McManus, James Murphy, Cormac Philips, Fergal Boland, Michael Farrell, Daniel HIll, Jason Coyne, Eoin Delaney, Joseph McManus, Adrian Philips. (Subs) Kealan Gallagher for A Philips (blood sub) 23-29mins; Kealan Gallagher for M Farrell, 46mins; Luke Connor for J Murphy, 49mins; Barry Lane for B Douglas, 56mins; Paddy Dozio for A Philips, 65mins;
Referee: James Connors (Donegal)