Derry boss Rory Gallagher admits work to do after Limerick victory
Rory Gallagher admitted Derry have plenty to work on despite opening their Division Two campaign with an emphatic 12 point victory over Limerick at Owenbeg on Saturday.
Published 28th Jan 2023, 20:59 GMT

- 2 min read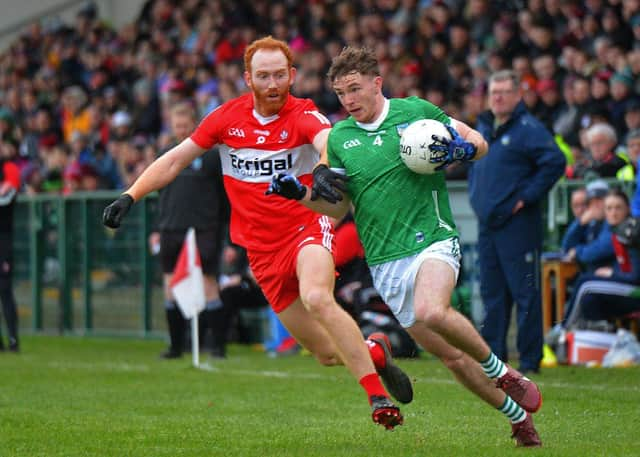 With Conor Glass and Ethan Doherty both back on board and starting, Derry dominated the match from start to finish against a Limerick side who never had enough in attack to seriously trouble an excellent Derry defence. At the other end Shane McGuigan was in imperious form, hitting 0-9 as Derry ran out 0-16 to 0-04 winners and it was a measure of Derry's progress over recent season's that, even not at their best, they are had far to much quality for the Treaty County.
"You love to win," admitted the Derry manager, "But maybe building scores a bit more easier than we did, though Limerick changed tact from the McGrath Cup which we expected. They went very defensive. There was a bit of over eagerness from ourselves and bad finishing.
"We won by 12 points and I don't think Limerick had any over ambition to win the game."We had bouts of it (good play) and even at that, it didn't really come off. We set ourselves high standards and a lot of individuals did well but they have an awful lot of ground to make up. We'll learn from week to week now."
After hitting three goals against Tyrone in the McKenna Cup final seven days previously, it was frustration that Derry failed to take any one of a number of goal opportunities against the Munster men on Saturday but Gallagher was realistic in his assessment.
"It was good to get Conor and Ethan in," he explained, "They hadn't played much. We got Niall Loughlin back on the pitch. We were going to out Shea (Downey) on, but we didn't and put Paudie Tad (Cassidy) back on again.
Disappointed not to get the goal?"We did have the goal chances and I thought even Gareth (McKinless) might have been fouled outside the square, I thought he should have accelerated more. At the other end with Ethan (Doherty), maybe the advantage could have run on for a few more seconds and Lachlan (Murray) has a chance but look, that's the way it goes. We took three out of seven or eight last week against Tyrone but took nought out of three or four today."Look, I wouldn't be satisfied with an awful lot of it. We have to judge ourselves by where we think we should be but , at the same time, we always have to live in the real world. It is the 28th of January and you're integrating two players for the first time today. You have two young lads like Lachlan and Eoin so I will take it and we move on.
"I think the standard of this division is a lot better than it was last year. I think our performance today was an awful lot better than any other first league performance we've had in the last number of years so we will enjoy watching everybody else dog it out tonight and tomorrow and we move on."