Derry spot on against Down but Rory Gallagher no fan of penalty shoot-outs
Despite seeing his Derry team progress via penalties, Rory Gallagher is still not sold on the idea of matches being decided from the spot.
16th Jan 2023, 3:43pm
- 2 min read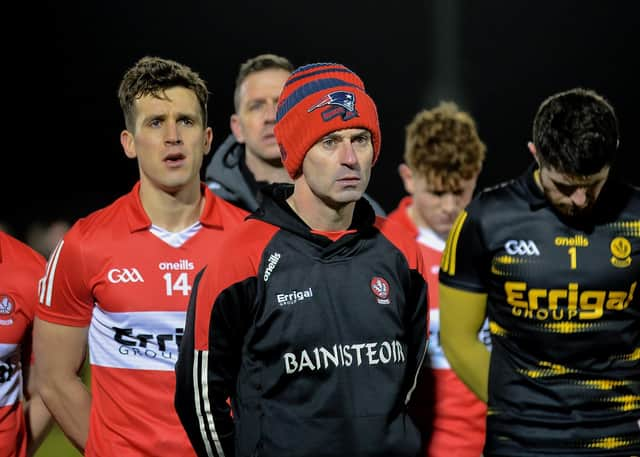 Sunday's semi-final in Newry was Derry's first involvement in a shoot-out and despite a successful outcome, the Oak Leaf boss believes there are better options available
"I suppose penalties are in now in Gaelic football, whether they are right or wrong," explained Gallagher, after Conor Doherty's spot-kick secure victory over Down.
"I still feel next score wins is the easiest solution for everybody. It's not going to go 20 minutes without a 'next score' no matter how defensive teams are. But look, they are the rules and we were on the upper end of it ourselves. To give Lynchy (Odhran Lynch) credit, he came up with the goods and our boys held their nerve."
The introduction of the 'split season' appears to have breathed new life into the McKenna Cup as for the second game in succession, the tie was played out with almost championship intensity, to the delight of the Derry manager.
"It's very well known Down have got their act together under new management team, to their great credit," added Gallagher, "They've got everyone training, training exceptionally hard, you can see the level of fitness and power they have in comparison to where they were, it's night and day.
"But I'm delighted with our response. We were the better team. Mistakes in the first half handed them 1-2 which was cruel, in the sense of instead of being four or five up, we were two up. We responded well to the two goals, albeit I'm not happy about giving two goals away but it's early in the season. We haven't done a lot of work on the pitch yet. We responded well, missed a lot of chances, but an awful good experience for the lads."
The Derry boss said experiences such as Sunday will only help the younger players in the squad.
"From day one, you want to be a team for all seasons. It's the start of the journey for Lachlan Murray, for Ben McCarron, for Eoin McEvoy, even Brendan Rogers playing in the middle of the park. Obviously Lynchy, Clucky and those boys are still young. They've had a successful season last year to an extent, but the more games they play, the more tests they get, the more challenges they get, the better they know the game."