Glen's band of brothers can shock Dublin kingpins Kilmacud Crokes
Glen v Kilmacud Crokes(Croke Park, Dublin, Sunday, 3.30pm,Referee: Derek O'Mahoney)
18th Jan 2023, 5:14pm
- 4 min read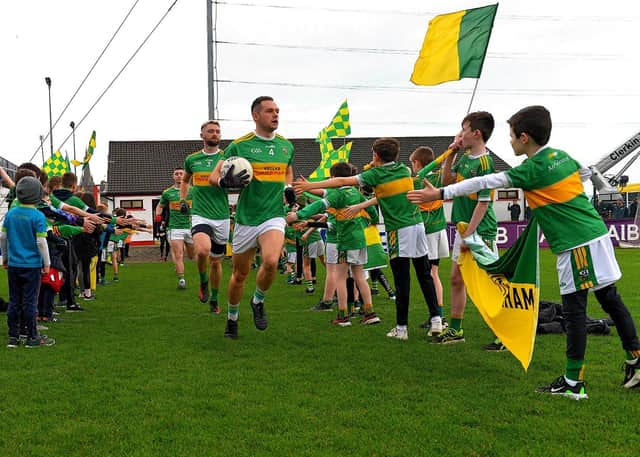 The membership of Dublin kingpins Kilmacud Crokes is larger than the entire population of Maghera where Glen is based.
Kilmacud, rated as the largest club in the GAA, will be favourites to defeat the Derry champions but the Watty Graham's have an advantage in the close ties and lifelong friendships of a tight group of players.
They have been at school together, came up through the club grades together and, for the most part, live within yards of each other. There are three Doherty brothers, two Bradley brothers and two Mulholland brothers who are first cousins of Conleth McGuckin. Put simply, Glen is family to this very talented group of players.
Kilmacud, based in the south east of Dublin, have a membership of some 4,800 and 120 teams in total across football, hurling, camogie and ladies football. They actually did the hurling and football double in 2022 and have come a long way since 1959 when some 60 people met to form a club in the area. They asked those present to pay a shilling each towards registering the club and ended up with three pounds and three shillings!
In the South Dublin area at that time it was mainly rugby, golf, soccer and other sports that attracted the youth but since the Crokes were founded they have gone from strength to strength, winning two All Ireland titles, six provincials and 10 county titles. They also have players from other counties who work in Dublin to strengthen their playing resources, the most prominent currently being Galway star, Shane Walsh. His transfer caught the headlines but went through given t he was residing in Dublin during his studies.
After a number of clubs had short stays around the Maghera area from 1933 to 1946, the Watty Grahams club was formed by Patsy McKenna, Sean Conway, Andrew McRory and Samuel McKenna. They won their first county title in 1959, the year Kilmacud was formed. That was the junior title which they won again in 1964. They won county intermediate titles in 1980 and 1983 and had good teams in the 90s but the senior championship eluded them.
Sterling work at underage saw them win four Ulster minor titles between 2011 and 2014 but it took a few years before that success filtered through to senior level.
Kilmacud have been missing Paul Mannion due to a long term injury but the bad news for Glen is that Mannion is nearing full fitness and has not been ruled out of the final. His influence cannot be understated after winning six All Ireland medals with Dublin, along with seven Leinster titles. He is also a three times All Star.
In their last two encounters against reigning All Ireland champions, Kilcoo and Connacht champions, Moycullen, Malachy O'Rourke's men blitzed the opposition in the opening quarter. They led Kilcoo by five points and Moyullen by four and were never headed in either game.
In the other side of the semi-finals Kilmacud were given a stiff examination by Keirns O'Rahilly's in a game they were expected to canter through. Kilmacud struggled at midfield where Kerry veteran David Moran ruled the roost. In this area Glen's Conor Glass and Emmett Bradley will fancy their chances of coping with the Kilmacud pair of Brian Shovlin and Craig Dias, a former Dublin player.
Another ex Dublin player, Rory O'Carroll, plays at centre half. In attack,
Wicklow native Hugh Kenny is the danger man along with Walsh who, despite his high profile, scored only two points against the O'Rahilly's and one of these from a free. Glen's tight marking defender Cathal Mulholland is the man likely to be detailed to keep him quiet after keeping Walsh's county captain, Sean Kelly, under wraps in the semi-final.
Going back to Derry's league encounter with Galway last summer, Oak Leaf corner back Conor McCluskey kept Walsh scoreless from play and Mulholland is a similar type of player but Walsh remains a class act.
Overall, Glen probably have the edge in pace but physically the Crokes are stronger on the flanks. Glen have the better keeper in Conlann Bradley who normally has a very accurate kick out and when Crokes' keeper Ferris was put under pressure by the O'Rahlly's forwards his kick outs were wayward at times. Bradley too was put under pressure when he started to short pass to his defenders in the last two games, so not doubt manager Malachy O'Rourke will have taken appropriate action.
In the final last year Kilmacud lost to Kilcoo after dominating much of the game and were beaten in extra time. Manager Robble Brennan, who was outfoxed by Mickey Moran that day, has stated he sees this final as redemption. He might just have to wait another year if Ethan Doherty and Danny Tallon continue their impressive form in the Glen attack.
The Andy Merrigan Cup has been won by three Derry clubs to date, Bellaghy, Lavey and Ballinderry, but back in 1995, the St. Patrick's Day finals at Croke Park featured Derry and Antrim clubs. In very windy conditions Bellaghy lost to Kilmacud by 0-8 to 0-5 but agonisingly close to a draw when Kilmacud keeper Mick Nester save a late Damian Cassidy penalty that would have forced a replay.
In the '95 hurling, Dunloy, who play Ballyhale Shamrocks at 1.30 on Sunday, drew that day with Offaly club, Birr, but lost heavily in the replay.
It was so nearly a Derry-Antrim double that day but hopes are high that it could be on Sunday!