McKenna Cup: Ulster win changes nothing for Derry says Rory Gallagher
The mantle of reigning Ulster champions will change nothing about Derry's approach to the new season according to manager, Rory Gallagher.
6th Jan 2023, 5:00pm
- 2 min read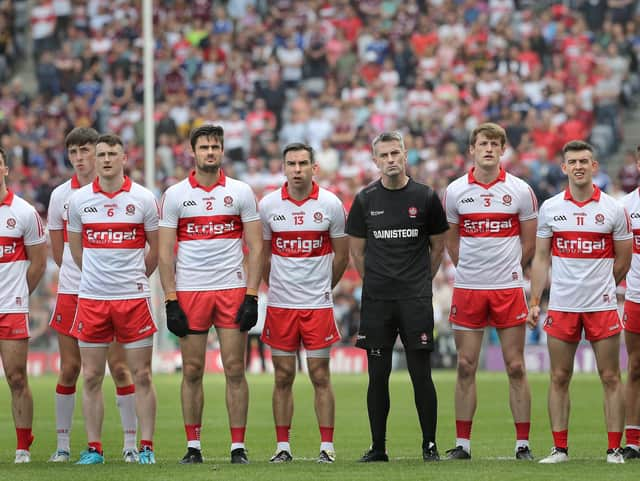 The Oak Leafers begin their 2023 campaign at Ederney on Sunday with a McKenna Cup tie against Fermanagh (1.30pm) with any raised expectations from last season's success viewed as a positive by the Derry manager.
"It doesn't change anything for us," revealed Gallagher, whose squad have been back training collectively since the start of December.
"It's not something we speak about. I'd say it gives players a greater sense of inner belief and confidence, both as individuals and as a group, but it hasn't changed anything for us. We just want to continue to improve, to push the boundaries of how we can improve tactically and physically, both as individuals and as a group.
"No, unfortunately the season is a long time over since the 9th of July and even further back to the 29th of May when we won Ulster. It's in the past now and we move on. Anybody who is not prepared to move on and to improve our group, we don't want them to be part of it, it is that simple."
Gallagher has added Dungiven's Kevin Johnston, Ballinascreen keeper Ryan Scullion and Ballinderry's Niall O'Donnell to the panel from last season and says everyone is anxious to hit the ground running ahead of the first Division Two game against Limerick on Saturday, January 28th.
"It is all about the League and Limerick but that's the same for both Fermanagh and Tyrone," added Gallagher, "They'll want to get off to a good start, same as us, but part of that is being successful in the McKenna Cup. If you can get to a McKenna Cup semi-final or potentially a final, that's brilliant, that's competitive games.
"It's well documented some counties are back training even longer than ourselves. If you look at Tyrone and Fermanagh, they were knocked out the first week in June or something like that so they will be so hungry for games but I don't believe that hunger should be any different from ours.