Rory Gallagher delighted with Derry's Conor Glass bonus
Rory Gallagher says he's delighted to be fielding questions about Conor Glass in a Derry shirt but stressed anything he gets from the Glen midfielder this season will be a bonus.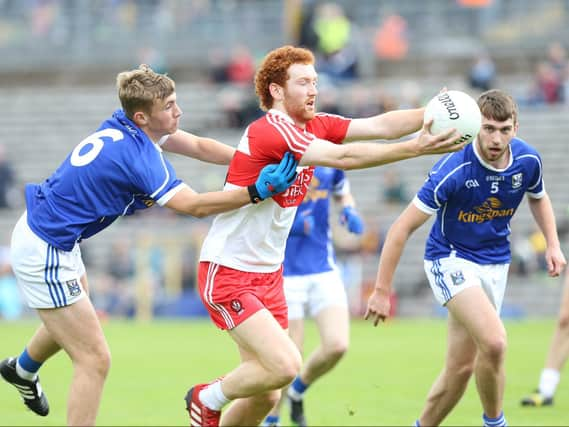 Glass announced his intention to return to Ireland from Hawthorn following a five year stint in Aussie Rules and, following a period of quarantine, this week rejoined the Oak Leaf panel but Gallagher is keen not to rush him back after his sabbatical.
"I am absolutely delighted to be talking about him. I think the minute that Conor indicated to myself that there was a possibility of coming home, while we wanted him to be sure he was making the right decision for himself, it is a massive lift to his family, his club and to Derry," explained Gallagher,
"We all know what he gave to Derry in the short time that he played underage football and I have no doubt, in a period of time, he can become a superstar of Gaelic football.
"It would be unfair, whether it's himself or Conor McKenna coming home, it would be unfair to expect them to hit the ground running having not played the game at that level for a while. I've seen players who have been out injured for eight months - let alone away three to five years - but I've seen how long it takes them to get up to speed but the one thing is, we know Conor's character, we know his down to earth work rate and I don't doubt he is in phenomenal shape.
"We'll see how the week's training goes between now and Armagh. We'll just watch and look forward to getting him settled in."
Gallagher also dismissed suggestions the truncated nature of the 2020 inter-county season could act as a leveller for sides seeking to gate-crash the top table.
"I don't overly see it as a leveller as such although seeing some of the soccer results, the likes of Liverpool conceding seven goals, Manchester United at home conceding six, it is strange," he explained.
"I met Seamus Coleman over the summer and he said that playing behind closed doors, like Everton going to Crystal Palace and being used to Palace's daunting crowd, it wasn't as daunting when obviously the crowd wasn't there.
"Possibly it is in that sense a leveller but we can't worry about that. I still think the team with the best players generally wins but we'll have to wait and see.
"We have to make sure we play well in whatever surroundings we find. All we are looking to do is focus on Armagh. There will be no crowd there so it'll be up to us to produce."