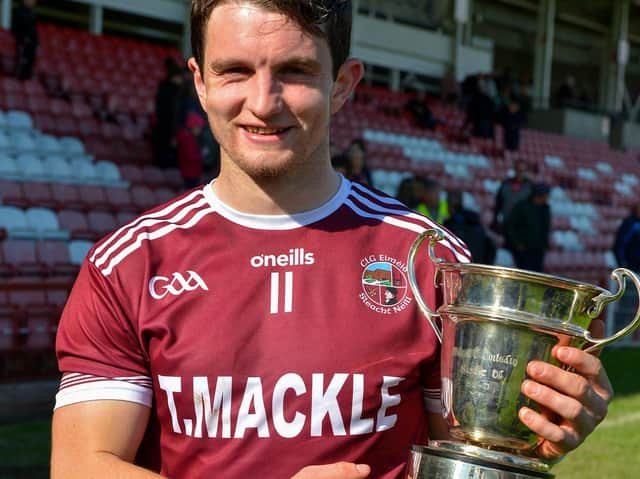 New Derry senior hurling captain, Cormac O'Doherty
The new Oak Leafers management duo of Dominic McKinley and Cormac Donnelly made the announcement last night and it's a position the Emmets star says he is privileged to hold.
"It is a massive honour. I am privileged to be asked to be captain of the county," said O'Doherty, who last year captained Slaughtneil to an eighth successive Derry Senior Hurling crown.
"Last year, was my first year being captain of our own senior team at Slaughtneil and to take on the role for Derry is a massive step for me but it's one I'm looking forward to.
"At 25 I could still be considered young but I have been playing senior hurling probably eight or nine years at this stage so I'm well used to it. I have been involved with the Derry set-up for four or five years as well so I suppose it's the next step and hopefully it can be a successful one."
There won't be much time for O'Doherty to settle into his new role with the truncated Allianz League Divsion 2B campaign getting underway with what looks Derry's most difficult game, a trip to Elvery's MacHale Park to face a Mayo side that was playing in Division 2A last season.
Given that the players have only been able to return to collective training in the past fortnight, O'Doherty admits preparations have had to be tailored but he insists the players are simply looking forward to getting back to playing games.
"We have had four or five good training sessions since we were allowed back last week," he revealed, "It is a short lead in (to the league) but we are working with what we have.
"We have a good bunch of players. It's about getting to know each other at the minute to try and get the best out of what we have. So far we've done that but it is a short lead in so we have to make the best of the time we have and hopefully we will see that next week."
Next week's opener against Mayo takes on added significance given the absence this year of a league final, a decision which means the top team in the four county division is automatically promoted. Ironically a similar situation last season would have seen Derry promoted but despite missing out in Division 2B finals for the past two seasons under John McEvoy, O'Doherty says Derry cannot afford to look any further than next Sunday's opener.
"We were in the last two league finals but we are still in this division," he added, "We play Mayo next Sunday and we are not looking any further than that.
"Mayo will be a massive challenge. They were playing in the division above us last year so we are under no illusions as to how tough that challenge will be. All we can do is prepare ourselves as well as we can in the time that we have and take it from there."
Those preparations are in the experienced hands of the new management duo and O'Doherty has been impressed by the new team, both of whom have had recent connections with his own club.
"Cormac (Donnelly) has been involved with us at Slaughtneil alongside Mickey McShane for two years there and it was a very successful time with him. He is a brilliant coach, was a brilliant player in his time and now he has taken that into coaching with him.
"Dominic was obviously involved here with the Slaughneil camogs for four or five years and had unbelievable success.
"We know what the two lads are about. Both had good playing careers and both have already been successful in management. Hopefully they can bring that to the Derry county set up as well.
"It is just great to be back playing. Having games to look forward to is great. Training is good but we want to be playing games and thankfully we have them to look forward to. It is not a long pre-season this year but everybody wants to play games and thankfully they are coming fairly soon"