Professor Brian Cox adds Derry date to live arena tour 'Horizons - A 21st Century Space Odyssey'
Professor Brian Cox has announced a final raft of theatre dates – including Derry – to conclude his sell-out, live arena tour Horizons – A 21st Century Space Odyssey.
Published 11th May 2023, 10:39 BST

- 2 min read
Updated 11th May 2023, 10:39 BST
Professor Cox will head to Derry's Millennium Forum on January 25 2024, with general on sale taking place at 10am on Friday, May 12, with tickets available from www.briancoxlive.co.uk.
Horizons has taken more than a quarter of a million people spanning three continents on a dazzling journey; a story of how we came to be and what we can become. Using state of the art screen technology, venues across the world from New Zealand to the Arctic Circle have been filled with images of far-away galaxies, alien worlds, supermassive black holes and the latest theories of the origin of the Universe.
What is the nature of space and time? How did life begin, how rare might it be and what is the significance of life in the Cosmos? What does it mean to live a small, finite life in a vast, eternal Universe? Having travelled the world, it's now time to bring Horizons back home to the UK for a final journey around our magnificent and baffling Universe.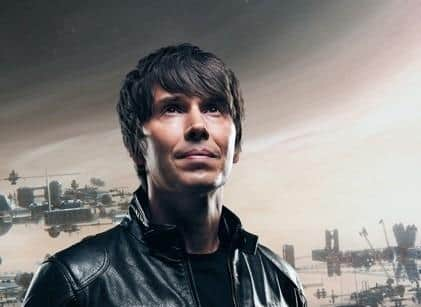 Horizons – A 21st Century Space Odyssey is a celebration of our civilisation, of our music, art, philosophy and science; an optimistic vision of our future if we continue to explore Nature with humility and to value ourselves and our fellow human beings.
Brian is widely recognised as the foremost communicator for all things scientific, having presented a number of highly acclaimed science programmes for the BBC including 'The Universe' (2021), 'The Planets' (2018), 'Forces of Nature' (2016), 'Human Universe' (2014), 'Wonders of Life' (2012), 'Wonders of the Universe' (2011) and 'Wonders of the Solar System' (2010). He also co-hosted popular astronomy and cosmology series 'Stargazing Live' with Dara O'Briain (and for ABC in Australia, with Julia Zemiro) and award-winning BBC Radio 4 series 'Infinite Monkey Cage' with Robin Ince, which has gone on to become one of the UK's most popular podcasts.
As an author, Brian has also sold over a million books worldwide including 'Black Holes', 'Universal: A Guide to the Cosmos', 'Quantum Universe' and 'Why Does E=mc2?' with co-author Professor Jeffrey Forshaw.
He also wrote the series of books to accompany his popular television and radio programmes.
Brian has undertaken several sell-out live arena tours, setting several Guinness World Records, including for the biggest selling science tour – a record he himself broke with his most recent worldwide tour, 'Horizons', which took in venues in the UK, USA, Australia, New Zealand, Singapore, Hong Kong and across Europe.
He is credited with boosting the popularity of subjects such as astronomy and physics and has garnered a host of accolades for his TV work, including two Royal Television Society awards and a Peabody Award for Wonders of the Solar System.