New farming exhibition launch is hailed a 'huge success'
Organisers of a new exhibition of maps, census records, letters, photos and memorabilia focusing on the history of farming in Inishowen have hailed its launch in the Carn Men's Shed on Friday night (February 3) as 'a huge success'.
Published 6th Feb 2023, 15:01 GMT

- 2 min read
Updated 6th Feb 2023, 15:01 GMT
The exciting new exhibition brought together items collected by dozens of men and women who attended eight evening sessions organised by the Men's Shed during the long winter months.
The sessions were aimed at keeping the local tradition of 'storytelling' alive and combating social isolation in the rural community.
Funded by the Development Fund Initiative (DFI) at Donegal County Council and supported by Inishowen councillors Johnny McGuinness, Martin McDermott and Albert Doherty, several of the farming storytelling sessions were facilitated by leading Irish genealogist Jennifer McLaughlin-Doherty from Clonmany.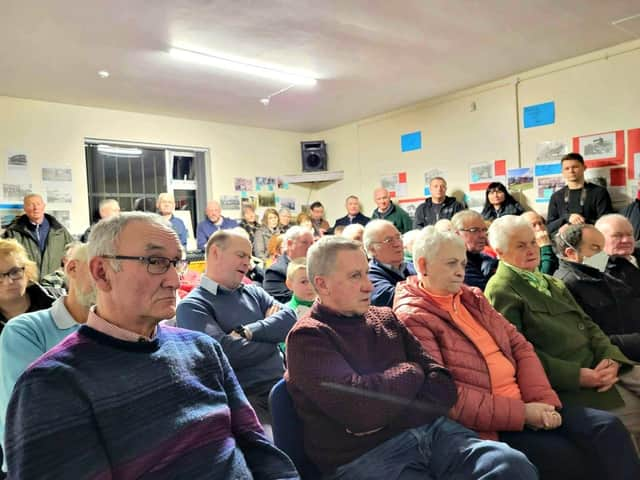 Deborah Shiels, Project Co-ordinator at Carn Men's Shed, said the launch night for the new exhibition was 'a huge success' and they will be displaying the collection for a week in the Men's Shed for anyone who wasn't able to attend.
"We'd like to say a huge 'Thank You' to everyone who took part in our farming storytelling project and the many people who came along to the exhibition launch on Friday night" she said.
"Indeed, we were absolutely delighted with the turnout – and the crowd of up to 100 people was far beyond our expectations!
"It was great to share the findings from our farming storytelling project with everyone – and we really hope they enjoyed the evening as much as we did!
"Our new farming history exhibition will also be available to view from Monday, February 6 to Friday, February 10 (from 11am-2pm) in the Men's Shed.
"I would also like to take this opportunity to thank Jennifer for her guidance during the project and her in-depth knowledge of the farming and storytelling traditions of Inishowen.
She continued: "Finally, a huge thanks to our local councillors Martin, Albert and Johnny for their ongoing support and helping to fund this wonderful project!"
For further information on the new 'Farming history of Inishowen' exhibition, please email [email protected] or phone Deborah Shiels on 00353 838422088.