St. Joseph's 'may just have crept in' if it was put forward for capital works: McIlveen
Education Minister Michelle McIlveen has said St. Joseph's Boys' School 'may have just crept in' if it had been put forward on a list for capital works that saw St. Brigid's College and Lumen Christi College get the green light for multi-million pound new builds yesterday.
21st Mar 2022, 5:38pm
- 2 min read
Updated
21st Mar 2022, 5:40pm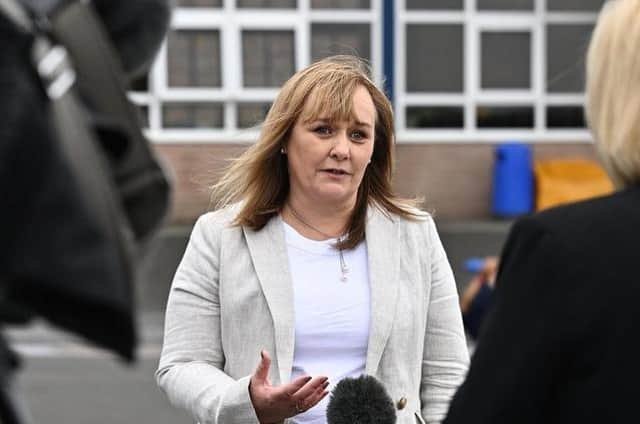 Michelle McIlveen
SDLP MLA Mark H. Durkan welcomed the news that St. Brigid's College will receive £22.7m while Lumen Christi will get £26.5m under the £794m investment in the schools estate announced on Monday.
However, he said he had hoped that St. Joseph's Boys' School would also have been advanced.
"I am a bit disappointed, however, not to see St. Joseph's Boys' School on the list. I have been in touch with the Minister about that and appreciate that her time has been short. Will she outline what steps a school that is not on the list must take or what hoops it must jump through to get on the list for improvements and vital investment, particularly with regard to their antiquated sports facilities?" he asked.
Ms. McIlveen replied: "St. Joseph's Boys' School was, unfortunately, not put forward for the list. Had it been, it may have just crept in. I have made comments about underinvestment across the school estate generally on a number of occasions.
"I have also visited schools with inadequate sports facilities. The Member will be aware of projects, particularly those involving local communities, councils and Sport NI, from which schools have been able to benefit.
"While this announcement is about major capital projects, other announcements may come with a future Executive and Minister. Priorities may also change, depending on the available budget. As the Member knows, the likes of minor works are, at present, very much around the Disability Discrimination Act (DDA) and health and safety, but protocols around that may change with a future budget."