Five more COVID-19 admissions to Altnagelvin
Five more people - three men and two women - were admitted to Altnagelvin with COVID-19 yesterday, according to the latest data from the Department of Health.
Published 10th Aug 2021, 15:01 BST

- 1 min read
Updated 10th Aug 2021, 15:02 BST
The age ranges were as follows: 20-39 (1 patient), 50-59 (1 patient), 70-79 (2 patients) and over 80 (1 patient).
At midnight on Monday 53 people were being treated as coronavirus inpatients across all Western Trust hospitals.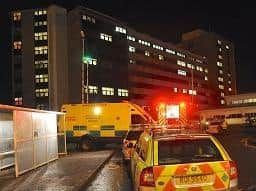 Five (41.67%) out of twelve ICU beds at Altnagelvin were being used to treat a COVID-19 patient; six ICU bed (50%) were occupied by patients with other conditions; and one (8.33%) bed was free.
Eight ICU patients in total were being ventilated - five were COVID-19 patients.
In terms of general occupancy 13.29% of beds at Altnagelvin were 'COVID-19 occupied', 81.01% were 'other occupied' and the hospital had 0.32% capacity left in the system; 5.38% were 'awaiting admission.'